Harry's on the River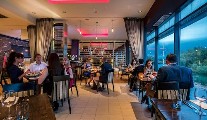 Proprietor
Donnacha Hurley - General Manager
Address
Directions
Sat Nav Co-ordinates: N:52.66747 - W:8.61963
Loc 8 Code - QJP-57-MT9


Contact
Telephone: +353 (0)61463600
Email: info@absolutehotel.com
Website: http://www.absolutehotel.com
Description
Limerick is a great City which has come on in leaps and bounds in the area of food and sleek accommodation over the past four or five years making it an even more desirable destination to visit. One of the fabulous additions over this period has been the Absolute Hotel, which is truly absolutely fabulous on all scores, great location, great views, great accommodation, great hospitality.
There is just a lovely modern chic feel about the whole place, including Harry's on the River, where you can relax over a cocktail and then have something good to eat as you watch the rushing waters of the Abbey, and there is always a buzz with plenty of local people dining there.
Food is eclectic with lots of well executed popular favourites, in a New York grill bar style, with something for everyone. They have an all-day a la carte menu which gives great options to dine lightly or fully. Only the finest quality regional produce is used including Ballyagran Salad Leaves from Co. Limerick and steaks from Enda Ahearne Meats, Co. Limerick. In fact, the beef can be traced right back to the field from which it came.
Enjoy a fresh made to order lunch daily, served Monday to Friday 12.30pm-5.00pm, Saturday 1.00pm - 5.00pm or bring the whole family for Sunday lunch between 1.00-3.00pm, dinner from 5.00pm - 9.30pm. The atmosphere is inviting, the food and drink lively, with some flair and humour in the presentation. The bartenders have great skills, shaking up perfectly blended cocktails with the city skyline in the background.
Harry's has a unique combination of indoor and outdoor dining with the bar flowing into the outdoor terrace where guests can enjoy al fresco dining overlooking the pretty Abbey River.