Pielow's Restaurant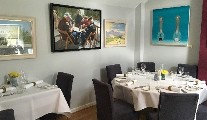 Proprietor
Address
Directions
Facing south, with your back to the crossroad trafficlights, Pielows is 100 yards up the street on the same side as the Horse & Hound Pub. It is on the first floor.
Contact
Telephone: +353 (0)1 2840914
Email: pielows@eircom.net
Website: http://www.pielows.com
Description
With all the eclectic cuisines now in Dublin, we lack one element that's done very well elsewhere – seafood and other viands served simply.
I was delighted then to find that Colin and Theresa Pielow are serving the kind of food we all love at their eponymous restaurant in Cabinteely. "My food is old fashioned", laughed Colin, as I complimented him on departure. It's not, it's great. They're what I call real foodies. They've talked the talk, but they've also walked the walk, having originally had a restaurant and a wine shop in Enniskerry, before moving to Cobh and subsequently to South Africa, where they also still have a vineyard producing delicious wines. Set in the village of Cabinteely with a Champagne and wine bar on the ground floor, and a pretty as a picture restaurant upstairs, which has all the feel of a Chelsea mews.
My friend Rena and I'd gone along for their midweek early bird menu, however, I felt weakened at the mention of Dublin Bay prawn and sole on the bone specials. I could also have fallen for the saddle of rabbit with prune and brandy sauce, the rack of lamb or the stuffed poussin with a red wine jus. Delicious breads arrived followed by the divine chunky prawns sauteed in chilli and garlic, lined up spoon style and tweaked with fennel fronds. Rena's in-house smoked chicken salad was equally good centred with mixed leaves, roasted pinenuts and a hazelnut dressing. My sole on the bone proved a showpiece, lightly browned, its flesh firm and succulent, while Rena's roast belly of pork, in large bite size pieces complete with crackling and apple sauce was a ace. And yes, there was a big dish of divine sinful Dauphinoise potatoes, green beans and carrots.
Rena followed up with Rumtoph– marinated berries in rum with whipped cream, and we washed the whole lot down with a glass of New Zealand Tiki Estate Sauvignon Blanc and a glass of Pielows Tulbagh Valley Shiraz.