Cava Bodega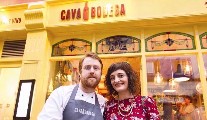 Proprietor
Drigin Gaffey & J.P. McMahon
Address
Directions
Cava Bodega is located on Middle Street, beside the Dáil Bar and across the road from Charlie Byrne's Bookshop.
Contact
Telephone: +353 (0)91 539884
Email: food@cavarestaurant.ie
Website: http://cavarestaurant.ie
Description
There is no doubt but the colour, vibrancy, drama and romance of Spain has held a huge attraction for the intellectuals and artistic of this world from the great American writer Ernest Hemingway to movie star Rita Hayworth, who both adopted it as their home for a number of years. I remember my first visit to the Balearic Islands when I was about 20 and being blown away by the sights and sounds of another way of life.

Spain held the same attraction for academic Jp McMahon, who lectures in Art History in UCC and who trained originally in French and Italian cuisine, and his theatrical wife Drigin Gaffey who holds a Masters in Theatre and Drama. They loved the country and its food so much that they came back and opened their own hugely successful Spanish restaurant and tapas bar called 'Cava' in Galway – their own mini Spanish Armada to the City of the Tribes as it were with its Spanish Arch marking the first invasion! Last year they relocated and opened Cava Bodega - doing tapas and wine - but what tapas, what wine!

There are many tapas bars in Ireland now, but many too are just a nod as it were to the Iberian peninsula, but at Cava Bodega they go into the finer detail of Spanish food and wines showcasing some 50 or so tapas and 140 Spanish wines, many exclusive to them. Nowhere else in Ireland will you also get such a selection of Spanish cheese, Pinchos, cured meets or sherries, and the pairings they suggest are fantastic.
So, think of meat tapas such as wild venison, beetroot puree, girolles and hazelnuts or pigs head fritter, beetroot puree, pickled beetroots and hazelnuts. Chicken hearts are with chorizo and cider whilst ribeye beef and foie gras burgers are topped with Manchego cheese and piquillo pepper. Confit pork belly is with apple compote and thyme gel whilst free range duck is with plum and PX sherry. Think of Moorish chicken with piquillo pepper sauce and black olive soil, or jamon croquettes with saffron aioli. Fish and shellfish has hake and clams with pea foam, or ray wing with organic carrot escabeche and saffron - the most expensive spice in the world. Cured salmon has piquillo pepper, smoked scallop roe and aioli whilst scallops, black pudding, cauliflower puree, lardo and oats are a marriage maid in heaven. I just love so many of them but last time I was there I had crab, piquillo pepper, radish and black olive soil - so inventive. Basque style monkfish is with parsley mayonnaise whilst salted cod cakes have lemon aioli. There are lots of vegetable and pulse tapas also including the stalwart comfort favourite of tapas bravas and tomato bread with olive oil. Catalan spinach is delicious as is Moorish couscous and haysmoked yogurt.
They have a great selection of Spanish and Irish artisan beers and many wines available by the glass 175ml, plus 250 and 500 ml carafes - as well of course an inordinate selection by the bottle.

For those of you with a sweet tooth try the Crema Catalana y Carquinyolis – a Spanish style crème brulee with handmade Spanish biscuits, or raspberry sorbet and rose cava with fresh raspberries and blackberries. I love Churros which are deep fried fritters served with chocolate ice-cream and PX chocolate sauce but for me a must is the Spanish cheese plate served with quince, apple and walnuts - and have a glass of Lustau Emilin Moscatel with it – just divine.

Bring a little bit of Spanish flavour into your life.....