Bar Italia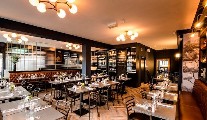 Proprietor
Address
Contact
Telephone: (01) 874 1000
Email: info@baritalia.ie
Website: http://www.baritalia.ie
Description
When I went to live in London many years ago, I couldn't get over how many great little genuine Italian eateries there were in comparison to what we were used to in Dublin. Thankfully that's all changed now, but where would we be now if we didn't have this urban mode of Italian dining to which we have all become so accustomed.
When I go into town, I love to visit Bar Italia for a fix of urban dining with authentic Italian food. There's always great buzz and, with a corner location right beside the Milennium Bridge over the River Liffey, it couldn't get more atmospheric. Having had a fab plush makeover in recent times, the smart casual vibes at this winning Italian restaurant have only gotten stronger.
They have a terrific selection of Italian charcuterie, cheeses, vegetables, which you can have served in all sorts of combinations. Antipasto misto is the chef's selection of wild venison salami, black truffle salami, cured Parma ham, Alpulian olives, house made pine nut and basil pesto, Taleggio DOP and cave-aged Gorgonzola DOP, with toasted ciabatta. They also do a vegetarian antipasto including marinated artichoke, aubergine, courgette, cheese and olives with bruschetta.
Cheesophiles will be delighted by their 'Cheese Larder', with the likes of creamy buffalo burrata from Apulia with 24 months prosciutto di Parma DOP and rocket leaves.
Bar Italia have delicious authentic pizzas, prepared using pizza dough made fresh daily on the premises. I particularly like the Pizza Salsiccia et Patate, which is Calabrian fragrant sausage, for di latte mozzarella, and rosemary baby potatoes. Their pastas too are just sinfully divine. Tagliatelle can be had with a beef ragu although my favourite with tagliatelle is wild mushrooms in a porcini and Parmigiano DOP fondue cream, with white truffle oil. Their fisherman's style risotto large black tiger prawns, fresh Irish baby octopus, Roaring Bay fresh mussels, tomato sauce, Sicilian tomatoes and a hint of chilli.
Mains include slow-braised Fernhill free range chicken in red wine with onion, carrot smoked salt and garden herbs; chargrilled lamb rack cutlets with herbs and a light marinade; or a char-grilled Achill sea salt dry-aged, pasture fed Black Angus 11oz ribeye, all being served with rosemary potatoes.
There is a fine selection of wine from Montepulciano d'Abruzzo to Barolo, Proscecco to Dom Perignon. I think you will find more than you could ever want at Bar Italia.