Seaview House Hotel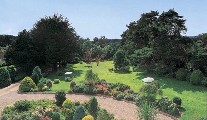 Proprietor
Ronan & Suzanne O'Sullivan
Address
Directions
How to get there:
Located on main road from Bantry to Glengarriff
Contact
Telephone: +353 (0)27 50073
Email: info@seaviewhousehotel.com
Website: http://www.seaviewhousehotel.com
Description
"Yes, we do breakfast in bed………if necessary," said the wonderful Miss Kathleen O'Sullivan, Proprietress of the Sea View House Hotel at Ballylickey, in response to my timorous enquiry on the telephone the night before. We felt like two naughty schoolgirls – but yes, they did breakfast in bed all right and, as one would expect under Kathleen O'Sullivan's eagle eye, it arrived on the button of 8 a.m. and was just perfect.
Having run Seaview since the 1970's (and her mother before that from the 1950's) Miss O'Sullivan retired and the reins were handed over to her nephew Ronan, his wife Suzanne, and their two young children. They have kept the hospitality and team and the whole ethos built up by Kathleen O'Sullivan but they have of course also brought Seaview forward in many ways including the addition of a fabulous Bath House & Spa.
It always reminds me of a French petit chateau but a thoroughly welcoming, homely and fun place where the staff, who are, of course, a fund of local knowledge and ideas, love to hear how you've spent your day in magnificent West Cork.
The food is excellent. They offer a four course A La Carte menu using only the finest locally sourced ingredients from West Cork's amazing artisan food producers - Hereford beef, Skeaghanore duck, and sublime fish such as turbot, Black sole and monkfish to name but a few, and, of course, their starters are rich with local crab, prawns and scallops all sourced through Castletownbere.
They also do a traditional Sunday Lunch, the likes of which you won't see anywhere else in West Cork - and of course their famous Dessert Trolley, over which I saw a young man almost cry with delight years ago when he was told he could have as much as he liked.
Seaview House Hotel is brilliant – you will absolutely love it.