Seaview House Hotel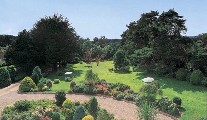 Proprietor
Address
Directions
How to get there:
Located on main road from Bantry to Glengarriff
Contact
Telephone: +353 (0)27 50073
Email: info@seaviewhousehotel.com
Website: http://www.seaviewhousehotel.com
Description
"Yes, we do breakfast in bed………if necessary," said the wonderful Miss Kathleen O'Sullivan, Proprietress of the Sea View House Hotel at Ballylickey, in response to my timorous enquiry on the telephone the night before. We felt like two naughty schoolgirls – but yes, they did breakfast in bed all right and, as one would expect under Kathleen O'Sullivan's eagle eye, it arrived on the button of 8 a.m. and was just perfect. It is no wonder that this much loved haven of hospitality won the AA Courtesy and Care Award.
A new wing was added not so long ago to the Seaview House, along with a magnificent French classical style round "conservatory" to the dining room, and it is just a fab place to stay. All of the rooms are splendid with larger rooms being absolutely divine – some opening out to the gardens – beautifully furnished with antiques, French Armoires and headboards, wonderful paintings – each different and each special We had arrived like two exhausted rats into the hall of the Seaview, having driven in and out of every peninsula from Cork to Ballylickey. Make no mistake this takes hours, but I don't feel I have had my fix of West Cork each summer without doing it. Having showered and dickied ourselves up we went down the corridor past Kathleen O'Sullivan's "Command Centre". "You look very nice", she said to my companion – "go through that door there and you can have a drink". Having passed muster we went into a cocktail bar and armed ourselves with suitable sherries and set down to peruse the menus.
The food is excellent – think Sauté Lamb kidneys Madeira sauce, whisper light Scampi or avocado with real Dublin Bay Prawns, Rack of Lamb or lemon sole all perfectly produced and served. "Do we get both Puddings and Cheese?" asked a young Englishman sitting across from us with his wife. His eyes lighting up like a child's when given the affirmative answer. We all looked together at a Victor Meldrew look-alike who passed by us and the young man said "we feel very young" – "so do we", we chimed sharply" to this mere fresh faced youth. The Seaview House Hotel is brilliant – you will absolutely love it.