Sandhouse Hotel & Marine Spa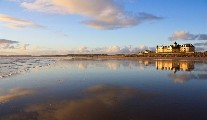 Proprietor
Address
Directions
How to get there:
From Ballyshannon take the Coast Road to Rossnowlagh
Contact
Telephone: +353 (0)71 9851777
Email: info@sandhouse.ie
Website: http://www.sandhousehotel.com
Description
Just off the main road, between Bundoran and Donegal Town, is the magnificent sweeping beach at Rosnowlagh, on the Atlantic Coast of Donegal, where stands the lovely Sandhouse Hotel and Marine Spa. Virtually on the beach, you simply could not get any closer to sun, sea and sand!
Originally a Fishing Lodge it was transformed into the fine hotel it is today. Most of its bedrooms, furnished in lavish country house style, have spectacular views over Donegal Bay and its proximity to the Ocean, and its food, have always been star points. Seafood is a speciality for them at both their contemporary Glasshouse Restaurant, as well as the aptly named Seashell Restaurant. Oysters, crab, scallops and lobster, sourced from local unpolluted waters, are regularly on the menus, as well as delicious Donegal lamb, prime beef and veal, and game in season. During the day locally smoked salmon, fresh Donegal Bay oysters and mussels are also served in the cosy bar.
I think we've come to realise how important it is to be able to switch off, walk the beach, and take the sea air. The Victorians used to take the waters and visit Spa towns, as did the Germans and Austrians, and way back the Romans. We are now only realising, but realising in a big way, how important water therapy is. At the Spa Suite at the Sandhouse they offer the very best in Marine Body and Skin Care with Thalgo Marine, which uses 100% pure seaweed from the coast of Northern France. The richness of the sea oligo elements, proteins, amino acids and vitamins are captured within the Thalgo philosophy and are vital to health and well being, and ensure soft supple revitalised skin. Try the Balneotherapy, a high-powered bath with 200 water jets massaging all those tender spots like lower back and neck. Think of it, aromatic oils, mineral salts, dried seaweed. Sure, after all that toning and rejuvenation you will be running up and down the beach every day, and knocking back the champagne in the bar each evening.
Apart from walking, surfing or just relaxing the Sandhouse is within easy reach of many championship standard golf courses and Rosnowlagh is an ideal centre from which to explore places of historical and cultural interest.
The Sandhouse Hotel is one of those great places to which you feel you are coming home each time you arrive. Feel the sand between your toes.