Aldridge Lodge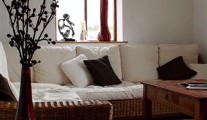 Proprietor
Billy Whitty and Joanne Harding
Address
Directions
How to get there:
From Duncannon village follow directions for The Hook Lighthouse. House located 1 km on this road on the left.
Contact
Telephone: +353 (0)51 389116
Email: info@aldridgelodge.com
Website: http://www.aldridgelodge.com
Description
A great attraction of France are the little restaurants with rooms where you will dine on superb rustic food at reasonable prices and not have to worry about driving afterwards. Well, I found a real little gem in Ireland called Aldridge Lodge in Duncannon, Co. Wexford, Duncannon is right down on the coast, a world apart, and definitely worth a detour. Driving past Aldridge Lodge you would just think it was any modern dormer style brick house, but behind this "Wisteria Lane" suburban façade is an ultra modern restaurant with a few simple but charming bedrooms upstairs for guests. Seriously talented Chef Billy Whitty, whose father is a local fisherman, met his partner, Dublin girl, Joanne Harding, whilst working in another Country House. They are a lovely pair and have created this smashing restaurant, on two levels, with cool white walls, modern paintings and girls in long black bistro aprons in attendance.

This is seriously good food, beautifully cooked and presented, at bargain basement prices. Dinner is €35 and if you want to indulge in lobster it will cost you maybe a fiver or a tenner more – can you believe it? Even at those prices we were brought an amuse bouche of brown crabmeat and little Mediterranean vegetables – olives, peppers and breadsticks. We kicked off with panfried fillet of John Dory with buttered asparagus and a brace of succulent seared Kilmore Quay scallops served in an intense pool of Hook Head Lobster bisque, perfectly judged and quite sublime. We followed up respectively with pan-fried fillet of hake with chorizo sausage, scallop, and a pepper orange and lemon butter, and a baked whole lobster on an enormous white plate topped with a fluff of deep fried noodles

As for puds – try the Tasting Plate for Two which had beautiful little morsels of sticky toffee pudding, warm apple puff pasty lattice, Wexford strawberries, Peach Schnapps parfait, chocolate hazelnut caramel torte with chocolate fudge sauce…. get the drift!

We weren't feeling any pain when we fell upstairs to bed!! By the way they do a cracking Sunday lunch too.

You should be salivating and rearing to go – if not there is something wrong with you!