Mount Juliet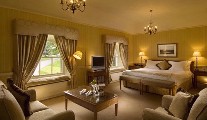 Proprietor
William Kirby (General Manager)
Address
Directions
How to get there:
Follow signs from Thomastown.
Contact
Telephone: +353 (0)56 777 3000
Email: info@mountjuliet.ie
Website: http://www.mountjuliet.ie
Description
Mount Juliet is a magnificent Georgian Mansion built by the Earl of Carrick, overlooking the River Nore, on 1500 acres of unspoiled woodland and meandering waters in Thomastown, South Kilkenny. Latterly, Mount Juliet was owned by the late Major Victor McCalmont and his wife Bunty, well known figures on the Irish social scene. Hunting, shootin', fishin', House Parties, were the thing along, with the Dublin Horse Show, Hacking Jackets from Callaghan's of Dame Street, antiques from Louis Wine. The lives of staff in those days revolved around the big Estate and very often went from generation to generation of minding "the Major" and previous incumbents.

Mount Juliet was then developed with great foresight and care by businessman, Tim Mahony, for even though you drive through the Jack Nicklaus designed 18 hole Championship Golf Course, past the self catering Rose Garden Lodges and Hunters Yard complex, the house is far enough away to retain the illusion of being on a private estate and still feels more "Country House" than Hotel. Now part of the Small Luxury Hotels of the World Group, you can fill your days with golf or country pursuits, chill out and be pampered at The Spa, go horseriding…do the Kilkenny Craft Trail. There are two Restaurants, including the Lady Helen Dining Room, a gastronomic experience, with dishes like Beef Fillet Rossini Foie Gras and A Study of Game Birds which is Roast Wild Mallard, Confit Leg, Guinea Fowl Supreme with Pomme de Terre puree with black olives and Sauce Albufera. Albert Roux, the famous french chef, comes to Mount Juliet to shoot and he cooked the Queen Mother's favourite soufflé for us on one special occasion. The other dining options are the Hound Restaurant in the Hunters' Yard and casual food in the President's Bar. The rooms in the main house are gloriously beautiful and there are fab modern rooms in the Hunters' Yard. Breakfast in the Lady Helen Room overlooking the River, rolling acres and romping young cattle, is simply bliss. "Would you like to try Tiger's Breakfast"? asked the Restaurant Manager. I was still romancing about the classy Colonial days, Indiaaah and all that, forgetting that more recent blow-in, Tiger Woods, until I was enlightened. Anyway, Tiger's breakfast is stacked French toast and smoked salmon topped with poached eggs. You might fancy "The Major's breakfast" which delves into the nether regions of liver and kidneys.

Mount Juliet is an enchanting place, I could stand outside and look at the house all day! The lushness of the grounds and winding paths are a constant reminder of another life – people who crave peace and space will find it all here. Check for special rates on the website.