Kilronan Castle Estate & Spa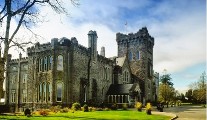 Proprietor
Michelle Coghlan - General Manager
Address
Directions
From Dublin, follow N4 towards Sligo. 6km after Carrick-on-Shannon turn right for Keadue/Knockvicar. Continue for 10km then turn left towards Ballyfarnon. Kilronan Castle is located 1.5km on.

Contact
Telephone: +353 (0)71 961-8000
Email: enquiries@kilronancastle.ie
Website: http://www.kilronancastle.ie
Description
Ireland abounds with beautiful old heritage houses and castles and if many of them could speak for themselves no doubt the tales they would tell would be fantastic.

One of the best is Kilronan Castle In Ballyfarnon, Co. Roscommon, an absolutely fabulous and totally romantic 4 Star Hotel. Kilronan comes from the Gaelic 'Cill Ronain', which means Ronan's Abbey, the ruins of which are close by, as well as St. Ronan's Holy Well, and which are both well worth visiting. St Ronan seems to have been an interesting chap who got around a bit because he also lived at Locronan in Brittany which I visited a few years ago. Locronan means the hermitage of Ronan and this is where his relics are. The original castle was built in the early 1800's and belonged to a Colonel King Tenison, who originated in Oxfordshire in the era of Edward I, but fought with the Irish Brigade in France on behalf of Bonnie Prince Charlie. They were a colourful lot and featured at the Battle of Waterloo and in the Boer War.

Enough of history. This place is absolutely beautiful from the magnificent parquet floors and panellled walls to the elegant drawingroom, with its uninterrupted views of Lough Meelagh. Just think of sitting here enjoying 3 tier afternoon tea by the blazing fire in the splendid Inglenook fireplace - a major architectural feature to enjoy and absorb. In fact it is striking that Kilronan retains its splendour including historical documents, artifacts, decorative stone and glass. It was just so sympathetically transformed into an elegant space to be enjoyed by us all.

Bedrooms and suites are lavishly and sumptuously furnished – magnificent fabrics have been used in the drapes and bed coverings to compliment the antique furnishings. We stayed in a room which opened out onto a divine little formal garden which is a lovely touch. Bathrooms are luxurious with marbled walls and floors.

When you have finished your day of country pursuits and exploration, or maybe that round of golf, you can recall the day's activities over a drink in the Dungeon Bar, or maybe an aperitif before dinner in the lovely Douglas Hyde Restaurant, named for Ireland's first President, who was born in Roscommon.
There is a totally romantic Lancelot and Guinevere feel to the location and setting of this amazing restaurant. Food is excellent, Executive Head Chef Daniel Willimont, who has worked alongside the likes of Raymond Le Blanc and Gordon Ramsay, is classically trained in French cuisine and has a strong focus on locally sourced and home grown ingredients, so much so he has developed garden and estate grown produce for use at Kilronan Wines here have been selected from vineyards both in the Old World and New World.
The Douglas Hyde Restaurant is also proud to be among the Gold winners of The Best Hotel Fine Dining Restaurant 2021 at the Gold Medal Awards, not to mention Silver winners for Best Chef.
This is a wonderful part of the world which remains largely undiscovered, but Kilronan Castle has opened that door of opportunity to discover somewhere special.