Kelly's Resort Hotel and SeaSpa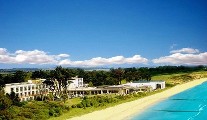 Proprietor
Address
Directions
How to get there:
On Rosslare Strand. Helipad available.
Contact
Telephone: +353 (0)53 32114
Email: info@kellys.ie
Website: http://www.kellys.ie
Description
Since 1895 four successive generations of the Kelly family have each added their own stamp to Kelly's Resort Hotel. Bill Kelly and his wife, Isabelle, have, in turn, enlarged and added a whole new cool modern dimension in the last few years culminating in the addition of the fabulous new SeaSpa incorporating eleven treatment rooms, seawater vitality pool, rainforest shower, rock sauna, lanconium, steam room, mud chamber and seaweed bath, which has been their biggest project ever.

Being right on the beach there is that upmarket sandy resort ethos and atmosphere, for, as soon as you swish up and park, you will see people strolling around in bathrobes between Spa, Leisure, Beauty Centre, Hairdresser or Hot Tub – it is just switch off time. I know people who drive down to Kelly's, park their car, and don't move it again until they are leaving Rosslare Strand. Why would they, everything one could possibly want is encompassed within the Hotel. When one mentions Kelly's Hotel, people generally say – "Oh, the food is fabulous, and one eats so much". That's true. It's like a cruise ship, non-stop wonderful food all included in your rate.

Breakfast and lunch are available buffet style in the Ivy Room or with formal service in the gorgeous Beaches Restaurant, which had over a €1m spent on it alone not so long ago. Likewise with lunch, not forgetting afternoon tea and all day availability of free coffee. In the evening people gather for drinks before dinner - which is always superb – oysters, foie gras terrine, game, fish, just as much of anything you could want and Kelly's import their wine direct from France, where Isabelle's family are in the wine business in the Chateauneuf-du-Pape region, resulting in excellent very well priced wines. Dancing follows dinner so join in the fun. Bedrooms are lovely – some with doors opening out onto your own mini terrace or else have balconies. There is also the La Marine Restaurant (not included in the "all in" rate) and Bar which is popular with visitors to Rosslare. Kelly's Irish Art Collection is famed and in this regard it is opportune to mention that throughout the year there are different breaks revolving around Art, Cookery, Wine, Antiques, Gardening, Ballroom Dancing and of course golf. Kelly's mainly operates on an all-inclusive package, anything from two days to a week and, for what is included, it is superb value. Sometimes, midweek only, they do a room and breakfast rate if that is what you want and you can dine in either Beaches or La Marine. I don't think it is possible for Bill & Isabelle to carry out any further improvements!