Hotel Kilkenny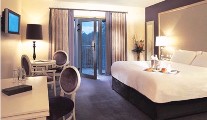 Proprietor
Address
Directions
How to get there:
Located on ring road allowing easy access from N9, N10, N76.

Eircode:
R95 XD74
Contact
Telephone: +353 (0)56 776200
Email: experience@hotelkilkenny.ie
Website: http://www.hotelkilkenny.ie
Description
The 4 star Hotel Kilkenny is a member of the Griffin Hotel Group which also includes the world renowned 5 star Monart Destination Spa and the 4 star Ferrycarrig Hotel in Wexford. In 2019 the Griffin Group opened the luxurious Monart Day Spa, Poundbury, a joint venture with the Duchy of Cornwall and the companies first step into the United Kingdom.
The original property on this site, Rosehill House was designed and built by William Robertson in 1830. The 4 star Hotel Kilkenny has built up around this lovely house and has eternally been one of the Marble City's most popular places to stay since the 19th Century. With a Kilkenny background, I have a serious love for this City and everything black and amber, so on hearing of the makeover at Hotel Kilkenny, I was off like a shot for a couple of nights break.
Uber hip and chic is the theme, from the big, cool and airy reception lobby, to the 138 bedrooms - all of which are absolutely beautiful. 36 are deluxe bedrooms and are designed to an exceptionally high standard, from Italian marble bathrooms to sumptuous king size beds. This truly is the ultimate haven in Kilkenny City. There are also large family rooms for holiday breaks and dedicated accessible rooms with customised showers and bathrooms.
Did anybody ever tell you before that you would feel Pure in a bar? Great name isn't it – a guilt free bar! Apart from the cool name, the Pure Bar with leather seating, extensive all-day menu, a deadly cocktail list, modern music and soft lighting. Not to mention the conservatory with its original stonework features and patio area for outdoor dining.
Taste Restaurant offers great service, fantastic food quality and an easy going atmosphere. Its food menu has been crafted to offer a great variety of dishes to suit all needs and is absolutely delicious. You must try the braised Featherblade of Beef… there are some dishes that cannot be done better any other way, and slow-cooked beef is one of them. Served in a silky sauce and so soft you can cut it with a spoon, perfection alongside the delicious sauteed savoy cabbage and smooth mash.
We both had a swim in the 20 metre pool in the Active Club but sneaked past the gym back to the diningroom for a hearty breakfast – more in my line!! I did, however, also avail of the beauty treatments and hair salon available in the Orchard Day Spa.

So what are you waiting for? Kilkenny for a break, it couldn't get any better. Enquire too about their Special Breaks Packages.