Hotel Kilkenny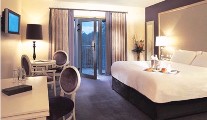 Proprietor
Address
Directions
How to get there:
Located on ring road allowing easy access from N9, N10, N76.
Contact
Telephone: +353 (0)56 776200
Email: experience@hotelkilkenny.ie
Website: http://www.hotelkilkenny.ie
Description
Everything has changed for the better in the past few years on the accommodation and restaurant scene in Ireland, and Liam Griffin and his team at Griffin Group Hotels have forged the way, first with the Ferrycarrig Hotel in Wexford, then creating the superbly smart, seriously special, Monart Luxury Destination Spa in Enniscorthy. Those projects completed, they then turned their attentions to Hotel Kilkenny to stunning effect.

Hotel Kilkenny has, for a number of years, been one of the Marble City's most popular hotels but it has now been transformed into one of the most luxurious and hip hotels in Kilkenny. With a Kilkenny background, I have a serious love for this City and everything black and amber, so on hearing of the makeover at Hotel Kilkenny, I was off like a shot for a couple of nights break.

Uber hip and chic is the theme from the big cool airy receiption lobby to the 138 bedrooms all of which are absolutely beautiful. 35 are deluxe bedrooms with pretty Italianate drawing room chairs, which would sit happily in any Interior Magazine. All of the rooms are fitted with Plasma TVs, Broadband Internet Access, all the de rigueur requirements of today's smart destinations. There are large family rooms for holiday breaks and there are 6 dedicated disabled rooms with customised showers and bathrooms.

Did anybody ever tell you before that you would feel Pure in a bar? Great name isn't it – a guilt free bar! Apart from the cool name, the Pure Bar is really hip with leather seating, sleek cocktail bar, modern music, soft lighting, black shaded chandeliers and a deadly cocktail list.

Tastes of Tuscany have been brought to the in-house restaurant Taste Italy with dishes from San Gimignano, Monterifionni, and other Tuscan villages. The menu changes regularly but think of maybe kicking off with Spaghettini Vongole – delicious little threads of pasta with clams, tomato and garlic, or Parma ham with Balsamic marinated figs, followed by gratinated seafood cannelloni or a rustic rabbit and mushroom ragout with tagllatelle and garlic spinach. When I was there I had a stunning squid tube stuffed with tiger prawns on a bed of Parmesan and garden pea risotto whilst Brendan had a succulent fillet steak with a basil crust, Barolo jus and spinach gnocchi. Absolutely delicious.

We both had a swim in the 20 metre pool in the Active Club but sneaked past the gym back to the diningroom for a hearty breakfast – more in my line!! I did, however, also avail of the beauty treatments and hair salon available in the Lilac Lodge Spa.

So what are you waiting for - Kilkenny for a break – and a touch of Italy – it couldn't get any better. Enquire too about their Special Breaks Packages.