Harvey's Point Country Hotel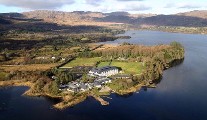 Proprietor
Address
Directions
How to get there:
6Km from Donegal Town. Follow signs for Lough Eske.
Contact
Telephone: + 353 (0)74 9722208
Email: info@harveyspoint.com
Website: http://www.harveyspoint.com
Description
In 1983 whilst on holidays from Switzerland, Jody Gysling, attracted by the stunning Swiss like snow capped Blue Stack Mountains, bought an old cottage on a swamp on the shores of Lough Eske, from two brothers by the name of Harvey. Jody gradually renovated the cottage, painstakingly drawing stones by tractor ten miles in the process. Six years later, escaping the pressures of Swiss business life, Jody and his brother Marc opened a small Guest House. A young local girl, Deirdre, took a summer job with them, romance blossomed between Deirdre and Marc and the rest, as they say, is history.

Harvey's Point is now a fabulous luxurious destination Hotel offering supreme comfort and a break from reality for adults. It nestles on the shores of shimmering Lough Eske with bedrooms and suites in keeping with the beauty and integrity of the area. From traditional Swiss designs, the bright airy rooms feature classically comfortable wooden furniture complimented with every conceivable modern convenience. There are four categories of accommodation with superb facilities. Executive rooms have a separate foyer, kingsize beds, mini bars, Broadband Internet access. De Luxe rooms are a larger version of the Executive category. Premium suites offer all of the above along with a private dressing room, whirlpool baths and lake views. Finally you have the fab Penthouse Suites, double the size of the Executive Suites, with bedroom, living room, bar area, lounge, dressing room, guest wc, whirlpool and bath, king size bed. There is also a Beauty Treatment Centre and Hairdressings Facilities, as well as a new Boardroom with a capacity of 25 for corporate groups.

Food too is a major feature at Harvey's Point. The restaurant sweeps down to the water and there is a French slant to the delicious cuisine - Donegal Bay oysters or maybe a terrine of duck foie gras flavoured with Irish Mist liqueur whilst shellfish and prawn bisque comes with a puff pastry lid. Follow up then maybe with black sole or duo of Donegal lamb, scallops or monkfish but leave room for the luscious puds.

Harvey's Point is a fun place and they have great entertainment and dinner cabaret evenings – their Sunday lunches are legendary. They also do special interest breaks – hill walking, painting, writing workshops. The scenery is spectacular in Donegal and the friendliness of the people well known so whether you land on the helicopter pad or by car – get yourself to Harvey's Point – it is different and it is beautiful.