Coolbawn Quay Lakeshore Spa & Marina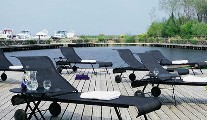 Proprietor
Terry Morgan - General Manager
Address
Directions
The private village resort of Coolbawn Quay nestles on the eastern shores of Lough Derg in North Tipperary.
Contact
Telephone: +353 (0)67 28158
Email: info@coolbawnquay.com
Website: http://www.coolbawnquay.com
Description
So near to the real world, and so far from the stress of it, is the fantastic private village resort of Coolbawn Quay. Perfectly located on the picturesque shores of Lough Derg in North Tipperary, and with borders full of woodland and lush green fields, it is the ideal place to escape from the pressures of the everyday world.
Coolbawn has been carefully and lovingly crafted to create a rustic traditional village atmosphere, with perhaps a feeling of simpler times, while still providing their guests with all the modern comforts and amenities they could ask for. Built on a natural spring, supplying the village with water, and with its own private marina, Coolbawn is truly an escape from the chaos of modern life.
Though the resort is set out as a village, hotel style service is provided throughout and, during the Winter months, they will even set and light a fire for you. The accommodation at Coolbawn is divided up into a variety of village rooms, suites, houses and delightful cottages – each room having its very own style when it comes to décor and colour scheme. If you're looking for a cosy intimate escape for two, then a village room might be for you, en-suite (some with baths), with TV, DVD, CD player etc, which can be found in rooms throughout the resort, or, if you're after something a little more spacious, why not book a stay in one of their lakeshore suites which feature beautiful views over the inner harbour and marina, not to mention an attached drawing room (some with turf burning stoves). The village suites offer patrons the choice of one or two bedroom en-suites, sleeping two to four people, with separate drawing rooms (some with turf burning stoves) and are ideal for small groups or families. For bigger groups, from 4 – 8 people, there are a variety of houses and cottages, scattered throughout the resort, offering guests all the comforts of home with all the service of a top hotel. All houses and cottages feature comfortable drawing rooms with turf burning stoves, spacious kitchens with refectory tables for home dining, and outdoor deck areas with tables and chairs.
Beyond the fantastic location, quality and distinct personality of the accommodation at Coolbawn Quay, their Lakeshore Spa, with Aqua suite and treatment rooms, is truly breath taking and the ideal place to decompress and restore yourself. They have a heavenly selection of therapies to relax your body and calm your spirit. Hot stone therapy and a hydradermie facial anyone? The spa itself has splendid views over the inner harbour with outdoor reed beds where massage and body treatments are performed. They have a relaxation room as well as beauty rooms, which provide all sorts of facials or hand and foot treatments.
When it comes to food, Coolbawn doesn't miss a step. Their Clubhouse Bar & Restaurant is absolutely superb, whether it's for a light bite, a drink or two or an intimate dinner. Breakfast is served in the Clubhouse 'till 11am with choices ranging from fresh fruit and homemade granola to pancakes and bacon with maple syrup. Lunch at Coolbawn is very casual and can enjoyed at anytime throughout the day. From 7pm – 9pm, amid candles, music and views of the inner harbour, dinner is served; and they are more than happy to accommodate any special dietary needs. Throughout the summer (weather permitting of course), breakfast, lunch and dinner are served outdoors also.
There's so much to do at Coolbawn that it's hard to imagine an unhappy guest. Whether it's pure relaxation you're after or an activity getaway, with canoeing, fishing, water skiing, yoga, lake cruises and more, all on site, there really is something for everyone.
The only problem with a visit to Coolbawn Quay is that you'll never want to leave.