Fota Island Resort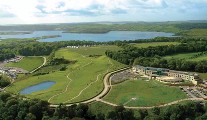 Proprietor
John O'Flynn (General Manager)
Address
Directions
Located off the N25 east of Cork City. Take slip road signposted Carrigtohill/Cobh R624. At roundabout take 4th exit. At next Roundabout take 1st exit. Helipad on site
Contact
Telephone: +353 (0)21 467 3000
Email: reservations@fotaisland.ie
Website: http://www.fotaisland.ie
Description
Fota Island just east of Cork City is one of the most beautiful places in Ireland. It is best known for its Wildlife Park, which is a joint project between the Zoological Society of Ireland and University College Cork. It is a wonderful opportunity to see many endangered species from lemurs to zebras up close and personal with very little restriction.

Recent years saw the opening of the stunning Fota Island Hotel & Spa. The location is fab, right beside this wonderful nature reserve, only 10 minutes to Cork City, close to Cobh and the Titanic trail. Nip on the little car-ferry across the bay, and you are into West Cork and Kinsale in half an hour. The Hotel itself is a low rise building sitting at the top of a hill overlooking parklands and the golf course and there is just that wonderful feel of being away from it all….. and somewhere special. There is an almost Hispanic feeling to the large lobby with its beamed ceiling, stone columns, marble floors and oak furnishings. Off the lobby is a beautiful Amber lounge leading to the Fota restaurant which serves excellent food. Tucked away at the other side of the lobby, beside the wine cellar, is a fabulous fine dining seafood grillroom, The Cove, which opens for private parties. We dined on slivers of Pata Negra filled with fig puree and topped with Parmesan shavings. We followed up with divine scallops on sautéed foie gras and braised pork belly…. and the best ever sole on the bone filled with a Nicoise dressing…. and the puddings - seriously good.

The bedrooms are very stylish with all the de rigueur requirements of today's up market hotels…great big comfortable beds, lovely bedlinen, mini bar stocked with goodies, plasma TV, internet access, extra large dressing area with his and hers hanging spaces, and a stunning bathroom with big walk in wet room style shower and a big bath as well.

The Fota Island Spa is amazing set in this natural habitat. There are 18 treatment rooms and the whole place is just beautiful. There is a 16 metre Hydrotherapy Suite with a unique walking river….the only one in Ireland.

Actually I could stay in the Fota Island Hotel & Spa for a week and never move out.

READ MORE ABOUT THE FOOD AT FOTA RESTAURANT AND AMBER GRILL ON THE RESTAURANT SIDE OF THE WEBSITE.