Castlemartyr Resort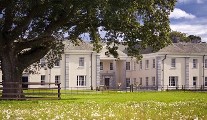 Address
Directions
How to get there:

From Waterford turn left at traffic lights entering Castlemartyr Village - hotel entrance on right.
From Cork turn right at traffic lights in Castlemartyr Village hotel entrance on right.
Contact
Telephone: +353 (0) 21 421 9000
Email: reception@castlemartyrresort.ie
Website: http://www.castlemartyrresort.ie
Description
The 220 acre Castlemartyr Resort, with its Ron Kirby designed 18 hole Golf Course, lakes and drifting swans, is absolutely stunning. It was once owned by Sir Walter Raleigh who also lost his head - but not in Castlemartyr! French Chateaux style, with magnificent ceilings and public rooms, the house was built by the Earls of Cork and was more recently a Carmelite Friary before becoming a top class Resort Hotel with Spa. Having sussed out our gorgeous room in the main house,and where former U.S. President Bill Clinton stayed recently, I headed for the 2,400 square metre fab Spa where I indulged in the best pedicure ever from the delightful Gillian. Pre-dinner we headed to the Knight's Bar, with its amazing restored Rococo ceiling, for an aperitif - Cosmopolitan for me and a Jameson for Sir. The Bell Tower is light and pretty, with formal French style gilt and floral upholstered chairs and gold drapes serving the fine dining menu as well as breakfast and lunch. Casual food is available in the Golf Club. We were booked on a Dinner Bed & Breakfast Rate We kicked off with a delicious amuse bouche of pork belly. Starters sounded lovely including scallop with brandade, almond and courgette or there was Jerusalem artichoke with coddled egg, wild mushroom and brioche. I considered the latter but decided on veal sweetbread which was nicely presented with pumpkin puree, salsify and baby onions. Sir chose pan fried foie gras with five spice, apple and chestnut which he enjoyed. Mains included turbot with endive, Lyonnaise potato and almond, whilst rabbit was with pomme souffle, parsnip and grain mustard. I had lamb cooked three ways, canon of lamb, a rissole of lamb rillette, and a rondelle of lamb breast, served with globe artichoke, black olive, and with what the waiter said were fondant potatoes but were actually gnocchi. Brendan had plentiful Hereford beef fillet cooked medium rare with a potato terrine and carrot. I finished up with a lovely tart tatin variation of caramelised apple and a quenelle of icecream. We also enjoyed a bottle of Domaine Chaintreuil Fleurie La Madone 2007 and a big bottle of still water. Breakfast was delicious – perfect Eggs Benedict and croissants, and a big Full Irish for himself. There are picnic menus, a film snack menu, a children's menu, something for everyone. Castlemartyr is an exceptionally beautiful place.