Cahernane House Hotel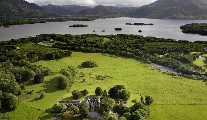 Proprietor
Emer Corridan - General Manager
Address
Directions
How to get there:
From Killarney Town follow the Kenmare Road for 1.5km. Hotel entrance is on the right. Hotel has Helipad.
Contact
Telephone: +353 (0)64 663-1895
Email: info@cahernane.com
Website: http://www.cahernane.com
Description
My first introduction to the Cahernane House Hotel was many many years ago when my better half and I went there for a weekend. At that stage it was under German ownership. I particularly remember our lovely room to the back of the house with ivy-clad walls, overlooking beautiful countryside and lawns, and since then Cahernane has a particular place in my heart, which draws me back time and time again.
Surrounded by Killarney National Park, Cahernane is on the door step of the Lakes of Killarney with breathtaking views of the surrounding waters and mountains beyond. This gorgeous old historic house is at the end of a long tree-lined drive sheltered away from the world yet close to everything, just like being on ones own private estate. The Earls of Pembroke came to Ireland in 1656. One brother was given the great Muckross Estate and the other the smaller property of Currens and Cahernane, and they maintained these magnificent Estates for five generations. In 1877 the original house was considered outmoded, and so it was torn down and replaced with the beautiful house which stands today.
Located on the Kenmare road just 1.5kms from Killarney town centre, Cahernane House has undergone a magnificent but sympathetic refurbishment providing now the ultimate in luxury, including suites and junior suites, and superb modern rooms in a new section.
The main house offers 12 beautiful guest rooms, which boast many of the house's original features from ceiling beams to fireplaces, each uniquely and stylishly decorated. If you really want to push the boat out, check out their Herbert Suite, which is fabulous in itself and for the incredible garden and mountain views it offers. The garden wing, which was built in the 1960's, and refurbished since, has 28 lovely rooms which are in keeping with the wonderful country manor style of the rest of Cahernane.
The food here is excellent too. Book a table at their Herbert Room Restaurant, where Head Chef Eric Kavanagh dishes up some mouthwatering delights made from the local, seasonal produce. This ethos of fresh, local food extends to their breads, biscuits, preserves and desserts, which are all made in their own kitchen. The wine list here is extensive also, but if it's a casual or light afternoon bite that you're after, head instead for their Cellar bar which offers a great menu, with something for everyone, in the unique atmosphere of this original grandiose wine cellar.
Cahernane House Hotel has the benefit of personal and dedicated attention to make your visit the best. It's a lovely romantic spot, and you can't but enjoy it.
The Earls of Pembroke sure knew how to pick a spot!