Garryvoe Hotel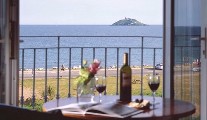 Proprietor
Stephen Belton (General Manager)
Address
Directions
The Garryvoe Hotel, Cork is situated directly overlooking the Ballycotton Bay. Driving time of only 40 mins east from Cork City and Airport.

From Cork City take the W25 east, following the Waterford Rosslare route until Castlemartyr. At Castlemartyr on the N25 main Cork to Waterford Road) turn onto the R632 drive through village of Ladysbridge and Garryvoe is another 2 miles.
Contact
Telephone: +353 21 4646718
Fax: +353 21 4646824
Email: res@garryvoehotel.com
Website: http://www.garryvoehotel.com
Description
Garryvoe in East Cork is to scores of Corkonians what Skerries is to Dubliners, and maybe what Long Island was to New Yorkers– where the childhood holidays were spent. Long innocent days on the beach, simple unsophisticated fun in rented summer houses or caravans, sand in the banana sandwiches and romps through the rough grass with Fido, beach balls, rounders and windbreakers. Fond memories.

For Irish people, along with those memories of Skerries, Garryvoe, and sand filled sandwiches, is the taste of those wonderful Dublin Bay Prawns - which we took for granted – great big bruisers that our parents used buy straight from the Fishing boats, pop in the boiling water for a flash and eat with salt and mayonnaise. They are nearly a thing of the past on Irish menus now, replaced by every old excuse of a prawn from distant shores, but I can let you in on a secret – at the Garryvoe Hotel you will also find them on the menu in bucket loads – Prawn Cocktail – the real thing – Prawns with Garlic Butter – the real thing – Prawn Scampi – the real thing – Prawns Mornay – you haven't seen that in a while have you?

The Garryvoe Hotel was transformed a couple of years ago into a magnificent new hotel with superb bedrooms and suites overlooking the beach. The diningroom is cool and elegant with twinkling ceiling. We also love the Lighthouse Bar - which does terrific casual food – including the prawns! We were in a glorious Junior Suite with a wonderful high cathedral ceiling. I could have stayed in that room for a week without leaving it – and lived on room service. It was so cool and calming with a giant sized bed, beautiful big brown sofas, clear white walls, blue curtains and a view of the sea that seemed never ending. We left the balcony doors open all night to hear the lapping of the waves – it was just bliss. This spring sees the opening of a new Health and Leisure Centre with pool, steam room, Sauna and outdoor hot-tub, whilst autumn will see the launch of a superb new Spa at the Garryvoe. All you could want under one roof.

There is a generosity of spirit too in The Garryvoe both with Stephen Belton, the General Manager, and proprietors, John and Carmel O'Brien, who also own the Bayview Hotel in Ballycotton. Garryvoe is just beside Ballymaloe and Shanagarry and is a superb place to stay.