Casey's of Baltimore Hotel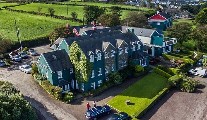 Proprietor
Address
Directions
On the R595 road to Baltimore.
Contact
Telephone: +353 (0)28 20-197
Email: info@caseysofbaltimore.com
Website: http://www.caseysofbaltimore.com
Description
Baltimore is one of the most beautiful villages in West Cork, known for its glamorous summer sailing lifestyle. The family-run Casey's of Baltimore Hotel, at the heart of the community, is renowned for its good food, hospitality, and of course, its location, with breath-taking sea views and beautiful unspoiled country scenery all around. You couldn't ask for a better hitching post whilst travelling the Wild Atlantic Way.
Luxurious and inviting throughout, the hotel still retains a classic atmosphere adding a little magic to the experience. The rooms here are fresh and stylish in cool fashionable colours with plush comfortable beddings, WiFi, Tv, tea & coffee facilities, and some rooms boasting spectacular views out over the water.
Once you've settled in, make your way to Casey's Cabin, their traditional Irish pub, which, much like the rest of the hotel, is bursting with atmosphere, and where my better half Brendan ensconced himself happily at the bar in no time at all. Light and airy with natural wood furniture, stone walls, and lots of fun knick-knacks and curios adorning the walls, it's perfect for a drink or a light bite, whether you've the whole crew with you or just your first mate. Be sure to try a Sherkin Lass Pale Ale or a Roaring Ruby Dark Red Ale, both produced on-site by their nano-brewery, the West Cork Brewing Co.
When it comes to dining at Casey's, their Baltimore Room restaurant is sure to delight the fishy fans. Nautically themed, with its polished wood 'deck', rope-wrapped pillars and wooden beams overhead, and with the views of the water right outside, you'll feel like you're dining on the high seas. The ethos here is all about freshness, using their own organic produce where possible, along with preparing their own brown bread, scones and cookies on a daily basis. Casey's is known far and wide for its top-notch locally sourced fresh seafood, which alone, makes a visit here worthwhile. Expect the likes of Roaring Water Bay mussels, from their own shellfish farm; pan-fried scallops with traditional veg; along with tempura prawns served with sweet chilli and garlic mayo. Carnivores needn't fear, with dishes like prime Hereford Irish sirloins or roast beef with gravy rounding out their fab menus.
Outside the hotel, there's lots to do, from jumping on the ferry to Cape Clear or Sherkin Island for a day trip, or taking a drive out to Mizen Head, to a day of whale and dolphin watching. If you like your outdoor sports, then you'll be in heaven, with fishing, cycling and sailing, all practically on your doorstep. You could scuba-dive or rent a boat, or push the envelope a little more by chartering a yacht to explore the west Cork coastline; and, the golf widows can roll their eyes as delighted hubbies load up their bags and balls, and head for the popular Skibbereen Golf course for a day on the links.
Besides the hotel, Casey's have several other types of accommodation, so, if you're a picky pilgrim don't worry, there's sure to be something that's perfect for you. For a little extra privacy, book one of the three luxurious rooms at their Baltimore Lodge; or for even more space and solitude, go for a two-roomed suite at their Baltimore Townhouse, a ten minute walk away from the hotel; or for the quiet country feel, try one of their five compact one bedroom apartments in their Baltimore Cottage.
So, whether it's a family trip, a romantic getaway or just frolics with friends, you can't go wrong with the Casey's of Baltimore Hotel.