Nesbitt Arms Boutique Hotel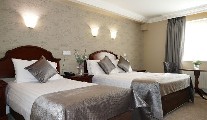 Proprietor
Liam McGill - General Manager
Address
Contact
Telephone: +353 (0)74 954-1103
Email: info@nesbittarms.com
Website: http://www.nesbittarms.com
Description
Fabulously situated in the heart of the O'Donnell county, the Nesbitt Arms Boutique Hotel in Ardara, Co. Donegal is certainly worth visiting. Besides from being a charming and very attractive hotel, it's location, makes it perfect for anyone looking to adventure and explore the Wild Atlantic Way.
The hotel itself, which is prominently located in centre of the town of Ardara, was established way back in 1838, and while it has kept with times, being fully refurbished not so long ago, the house retains its classic historical feel.
Rooms at the Nesbitt Arms are modern, spacious and attractive, with rich plush furnishings including fabulous Donegal tweed throws and upholstery, for which of course the county is famous, plus attractive light fixtures and plush duvets making them a pleasure to occupy. All rooms here come complete with TV, hairdryer, tea/coffee facilities and complimentary WiFi.
Once you've checked in, make sure to book at table at their Ramblers Bar & Restaurant, where their Executive Chef, Anthony Armstrong, has some great foodie treats in store. Before dinner, why not grab a cocktail or maybe try one of their 'Local Drinks', like an An Dulaman Gin or a Silkie Whiskey. There's something for every one here with an extensive menu covering burgers & sandwiches, chicken and beef dishes, seafood, pastas and curries, as well as some signature surf & turf dishes. There are also healthy and gluten free options, with vegan dishes available on request.
Once you're done luxuriating in the hotel, take a short drive to the breathtaking cliffs of Slieve League, which are the highest marine cliffs in Europe, and enjoy the fantastic ocean views, or, if you'd rather laze on a glorious premier blue flag beach then head to nearby Narnin. There're fishing towns and ports to visit, and a trip to 'The Islands' is a must, or if it's a day on the links you're after, there is a fantastic 18-hole course in nearby.
The Nesbitt Arms also specialise in weddings, so if you're thinking of tying the knot, and you're looking for a place with a touch of magic, steeped in beautiful scenery and offering a gorgeous wedding suite, not to mention their fab Weavers Suite Ballroom, which can take up to 200 guests, this could be the perfect place for you.
Read More About Food & Drink At The Nesbitt Arms Boutique Hotel