Bansha Castle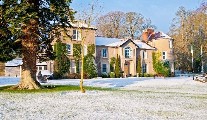 Proprietor
Address
Directions
How to get there:
Located just outside the village of Bansha
Contact
Telephone: +353 (0)62 54187
Email: teresa@banshacastle.com
Website: http://www.banshacastle.com
Description
I got a tall order from an English PR agency representing the Boss of a large Legal Firm. The Boss was suffering Hip Hotel Fatigue, so looking for something "different". He wanted to rent a big Country House where he could entertain his best customers for a week. If it was that simple I would, as they say in Tipperary, be away in a hack, but no, he wanted more and a lot more. He wanted a house where he could self cater and indulge his passion for cooking some nights and have dinner provided other nights. Still simple, you may say, but he also wanted a place where he and his friends could hunt, shoot and fish and be within walking distance of the local pub.

Well, you will be delighted to know that I found the perfect retreat at the 18th C. Bansha Castle. The ulimate setting for a big occassion, Bansha Castle is a beautifully stunning property available for rental, catered or uncatered.
As I travelled the road from Cashel to Bansha, it reminded me a little of Beverly Hills without the traffic for it definitely had the mansions, secure Stud Farms and prime beef units. This is 4-wheel drive territory so I knew when I arrived at Bansha Castle that I had backed a winner for Mr. Lawyer. Teresa and John Russell are welcoming hosts and there is a great casual welcoming feel to the whole house, and Teresa can also organize a beautician to come if you want to pamper yourself. The Drawing room is an impressive room with a large full size snooker table just off. Teresa has organized the House so well that you can rent the entire place and have a private kitchen and dining room at your disposal, or she will cook breakfast and dinner for you at times to suit you.
The idea of renting a castle adds a fantastic magical element to affairs, an arrangement that's perfect for people celebrating special occasions, corporate "think tanks", even divorces, and you can bring your own booze. A number of my friends have taken the castle over the years for private family celebrations and it has just worked so tremendously well.