Conyngham Arms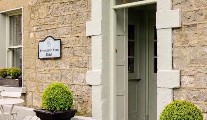 Proprietor
Address
Directions
Situated prominantly on the Main Street in Slane, Co. Meath
Contact
Telephone: +353 (0)41 988 4444
Email: info@conynghamarms.ie
Website: http://www.conynghamarms.ie
Description
The historic village of Slane springs to the fore when it comes to Rock Festivals in Ireland. Over the years Slane Castle has seen thousands of people enjoy the music of Thin Lizzy, Bruce Springsteen, Guns 'N Roses, David Bowie, Queen, U2, Madonna, and the Rolling Stones. The Conyngham family have lived at Slane Castle since the late 18th C and their influence can be seen immediately on entering Slane village by the four magnificent imposing Georgian houses which stand at the crossroads of the two main streets in the village setting the tone.

At the heart of this community for 170 years was the village hotel, the Conyngham Arms, an 18th century coaching inn and there was shock and a sense of loss on its closure a few years ago. Happily, Trish and Bryan Conroy, of the fabulous Tankardstown House, having driven by the vacant property for a couple of years, rode into the rescue and, along with a lot of hard work, waved their magic wands and transformed the Conyngham Arms into a super smart village inn with wonderful accommodation by way of 15 en suite rooms and great food.

People were overjoyed at the re-opening of the Conyngham Arms for everybody coming through the door had a memory, a story, their mother got married there, their granny had her funeral party there.

As with its big sister Tankardstown, décor at the Conyngham Arms is exquisite. The fabrics, the lamps, the attention to detail and little tweaks amidst beautiful French style furnishings with, of course, all mod cons.The bedrooms are simply beautiful and the ground floor has all sorts of wonderful rooms and areas in which to sit and chill - have a drink, a coffee, meet the locals, read a newspaper.

You can read more about the food at the Conyngham Arms on the Restaurant side of this website but let me say that all their vegetables come from their four acre walled garden at Tankardstown and most of their produce is local and artisanal. Breakfast is a treat. You can of course have the Full Irish with free range pork sausages, black and white pudding, bacon, tomato, mushroom and Free Range egg with toast or brown bread, or indeed a mini Irish breakfast – not so mini. Terry Butterly's smoked salmon is with free range scrambled eggs whilst American style pancakes are with maple syrup and fresh crushed berries on the side. On top of that they have an 'Operation Transformation' selection which is fantastic including porridge with fresh berries, 'Light Bites' of fresh fruit with natural yoghurt or 'Light Bites2' which is a Brandy & Blueberry shake. Good for the heart and soul they say. The list goes on and includes turkey salad, or a Lunch Toastie of lean ham, Swiss cheese and leaves on brown bread. There is even grilled hake with a new potato salad, and roast herb breast of chicken.

Rock on.