Celtic Lodge & Le Bon Crubeen Restaurant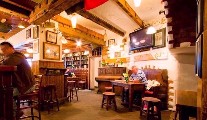 Proprietor
Address
Directions
Off O'Connell Street in Dublin city center. Beside Spire.
Contact
Telephone: +353 (0)1 878 8755
Email: leboncrubeen@gmail.com
Website: http://www.celticlodge.ie
Description
You know those wonderful little small hotels you find in the centre of Paris or Rome with just a front desk and perfectly fine bedrooms but which happen to be over or beside a wonderful little family run bistros or trattorias and of which we don't seem to have anything much similar here, well we do.
Located right in the heart of Dublin 1, so totally convenient for seeing everything there is to be seen in the City, and enjoying the nightlife, is The Celtic Lodge Guest House on Talbot Street. On top of being such a convenient destination for City lovers is the fact that the Celtic Lodge also incorporates a traditional Irish pub called The Celt and a great French restaurant Le Bon Crubeen which is one of Dublin's most popular restaurants, and which has won many foodie awards including 'Best Casual Dining Restaurant. You can read more about Le Bon Crubeen on the Restaurant side of this website.
To get back to the accommodation because one does tend to get a bit distracted by the food here. There are 29 fully appointed bedrooms equipped with every modern convience, all cheerfully decorated in heritage yellows and blues, and you can be assured of a great breakfast in the mornings. The location is very easy to access being close to Connolly Train Station and Bus Aras but, on top of that, they offer all their guests free airport transfers to and from Dublin Airport to their door. Now that can't be bad. At night they have free live Irish traditional music and it is also very close to the O2 Arena if you are attending a big concert.
Now that has to be bliss for many, a traditional Irish Pub and a great French Restaurant, all in one building!