g Hotel & Spa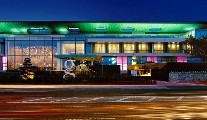 Proprietor
Triona Barrett - General Manager
Address
Contact
Telephone: +353 (0)91 865200
Email: stay@theg.ie
Website: http://www.theghotel.ie
Description
Le Tout Irelande never mind Le Tout Galway was all agog when it emerged that Philip Treacy, probably the world's most famous milinery designer, was involved in the Interior Design at the new G Hotel in Galway as Design Director. What he created was an extravaganza of contemporary design and colour, luxury and glamour, yet combined with extreme comfort and functionality that is required of any hotel never mind a 5 Star Hotel like the G.

The ground floor is a series of beautiful almost stately rooms running alongside a long raspberry carpeted corridor perfect for meeting friends for afternoon tea or a glass or ten or Prosecco. To me it is an almost humorous modern take on the salons of Buckingham Palace – you know those pictures where you see the Queen gliding along a long red carpet. The first room is the Grand Salon in cool classic creams, ivories and golds, with wall mirrors that are just like The Duchess of Cornwall's hat – which of course was designed by Philip Treacy. The next salon is the Ladies Lounge, a riot of hot pink with its Andy Warhol camouflage pink fabric covered chairs and swirling black and white flooring which creates a sense of the 1940's and 1950's. Here you can have lounge food from their all day menu of excellent casual food and the fantastic 'Pink Afternoon Tea' – with or without pink Champagne. They also have a fantastic Canape Menu which I love – tasty morsels – and a huge range of them. Lastly is the Gentlemen's Lounge with its deep opulent blues and purples leading into the fabulous bar.

The G overlooks Lough Atalia and Galway Bay and obviously it is better if you can get a bedroom to the front for the view and the feeling of airiness and really being away. All of the rooms are beautifully fitted and equipped as one might expect with design features and beautiful soft furnishings. Superior rooms are bigger and have views of the terrace or internal garden, whilst DeLuxe rooms are on the first floor with views over Lough Atalia and the city skyline – this is where we stayed on our recent visit. The DeLuxe bedroom can also accommodate an additional bed for a child up to the age of 12. Luxury Rooms measure 50 sq m of floor space. Bathrooms have a double walk in shower, free standing egg shaped Villeroy and Boch bath and double wash handbasins. These rooms are located throughout the hotel with views of the terrace or internal courtyard. Then there are the Junior Suites with Lough Atalia views, plenty of space and all the trimmings. If you want to really splash out at the G you can treat yourself to the Linda Evangelisa Suite – absolutely amazing with magnificent furniture and design. There is a large lobby area with guest bathroom, a Butler's work area, a spacious living room with dining area – to die for.

gigi's is their main restaurant and it is fantastic and superb all in one breath – the décor being fantastic and the food superb. Think of starters such as Savoury Crème Brulees of Paul Keane's Goat's Cheese with a tapenade of olives and tomatoes, or Ravioli of Local Lobsters. Marinated Irish Duck Confit salad has a Parmesan tuille and caramelised honey and hazelnut dressing. Mains are equally tantalising and include roast rack of local Spring lamb with goat's cheese and a gateaux of vegetable. Roast monk tail with lobster comes with a warm potato salad and a bisque sauce, whilst confit of organic salmon has lemon mayo and a smoked salmon tartar.

The G is the perfect place for a really cool weekend away – just the right distance from the centre of Galway and always has a buzz and a sense of occasion and being.

Look out for Special Breaks – as they say – they have extraordinary rates for extraordinary times.

You can read more about gigi's on the Restaurant side of my website.