Station House Hotel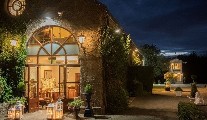 Proprietor
Address
Directions
How to get there:
From M50, Cavan exit, head towards Navan on N3. Turn left to Dunsany after Dunshaughlin and follow signs for Kilmessan.
Contact
Telephone: +353 (0)46 902 5239
Email: info@thestationhousehotel.com
Website: http://www.thestationhousehotel.com
Description
As the name suggests, this charming hotel was converted from a former railway station in the 1980's by Chris and Thelma Slattery who quickly built up an excellent reputation for good food and hospitality. It is set in a sylvan paradise of landscaped gardens and wild woodland on twelve acres and you might half expect to see a centaur or wood nymph frolicking on the grounds!
The hotel's award winning restaurant, the Signal Restaurant, is open seven days and serves up a fine variety of local and seasonal produce. They do a cracking shank of lamb with a red wine jus served with a basil and black pudding mash. Their steaks too are superb, as is their seabass served with a mushroom and spinach fricassee, and as for their desserts they are scrumptious. If you fancy a tipple before or after dinner there is the Platform Bar which has an outdoor patio for those balmy summer evenings.
There are four categories of bedroom on offer from Executive Double and Twin to Family and The Signal Suite. Thought has been put into the decoration and use of soft furnishings so you will feel more than at home here. All rooms are ensuite and are flooded with natural light. They also have modem connections and televisions.
The beauty of the setting has made it an ideal place for weddings. The Carriage Suite, which is separate from the main hotel, offers space for up to 180 dining guests and it also doubles as a conference centre for business clients and can cater for up to 400 people.
You are in the heart of the lush lands of County Meath here with four golf courses in the vicinity and ample fishing opportunities. Trout and salmon can be caught (with permit!) from March to September on Rathbeggan Lake and in the River Boyne. If a day at the races is called for then Fairyhouse and Navan Racecourses are nearby. For those who prefer more sedate activities, cycling and walking tracks line the Boyne River. For a day of heritage and ancient culture, Trim Castle, Newgrange and the Hill of Tara aren't far off.
With this much to offer, it should be all aboard for the Station House Hotel.