Our Latest Great Place To Eat - Eastern Tandoori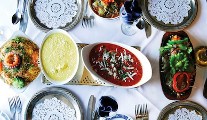 Tuesday 10 March 2015
Established on Spanish Parade, in the heart of Galway City, Eastern Tandoori has spent the best part of the last twenty years providing its customers with delicious authentic cuisine, prepared with 100% Halal meat products, sourced from local Irish farms and flavoured with a selection of spices from all across India.
From the moment we walked through the doors of the Eastern Tandoori we knew we were onto a winner, as we were warmly welcomed and shown to our table by our charming Maitre'd. The restaurant itself is spacious and comfortable, with just enough Eastern décor, by way of light fixtures and ornaments, to set the right atmosphere, without it being smothered by its own motif. I think the red hue from the lights along with the more regal blue scattered about the room really worked well.
On my visit, starters included calamari crusted with semolina and served with a homemade tomato chutney, star anise flavoured duck rolls with figs and tamarind chutney, as well as nimbu jhinga, which were pan seared jumbo prawns seasoned with fresh turmeric, Kashmiri round chillies, ginger, dry fenugreek leaves, lemon leaf and garlic. I thought about the prawns, but in the end I decided to try their trio of chicken, each of which was prepared with a different marinade. One was cream cheese and lemon zest, another mustard and ginger, but I think my favorite had to have been the red chillies, garlic and yoghurt marinade, which was simply mouth watering. Brendan, on the other hand, decided to try their 'Eastern Delight' which was an assortment of tandoori chicken, lamb kebab, chicken tikka and shish kebab served as a sizzling dish with sautéed onions. He was delighted and rather impressed with the wonderful palate of flavours he was presented with.
Read More: index.cfm/page/viewRestaurant/id/347