Restaurant Review - Stanley's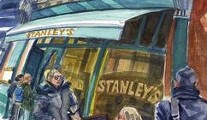 Tuesday 03 March 2015
What's in a name? Well, marketing people would say that your business moniker is very important in luring people across your doorstep. The name needs to be appropriate to the type of customer you want to attract and, to me, "Stanley's" does not convey that this eatery is a gastronomic jewel. The name smacks more of ale and a gastropub. However, if that was my only problem, then, "What's in a name? A rose by any other name would smell as sweet".
I have enjoyed chef Stephen McArdle's food at his Arch Bistro in Churchtown, but now he and his brother, Patrick, are also taking on the bright city lights in Dublin's Creative Quarter. The brothers have a considerable restaurant pedigree between them, with Stephen having worked in Nick's Warehouse, and Paul Rankin's Roscoff, both in Belfast; and Eamonn O'Reilly's One Pico in Dublin.
I'd been in this particular building in a couple of its previous incarnations, but the McArdle boys have really upped the ante in all senses. They have turned this tall, narrow building, with its wonderful, leaded bow windows, into three floors of dining, with a wine bar on the ground floor, a first-floor dining room, and a private dining room on the top floor.
We were on the first floor, and we loved the restrained blend of faux-French-chateau wall-panelling, set off by parquet flooring and contemporary furniture, creating light and space in what is not a very large room.
The a la carte menu sported half a dozen starters at €9-€12, and mains at €19-€28, while an attractive early bird menu offered 2/3 courses at €19/€24. We decided to try both menus. A la carte starters included pigs-head terrine, with cured parsnip and pickled apple; while roast wood pigeon was served with butternut squash, heirloom beets and spiced game broth.
On the marine side, seared scallops were served with pearl barley, cauliflower and smoked bacon.
The early bird starters featured a crayfish risotto; foie gras parfait; and a smoked trout salad. I kicked off with a rich, luscious textured melange of wild mushrooms, cep cream and slivers of Parmesan on toast (€11). Paul loved his tranche of foie gras parfait with rolled ribbons of pickled cucumber, carrot, mixed leaves and plum and apple chutney.
A la carte mains included beef fillet with a foie gras crust; rib-eye steak; braised shin of beef with black-truffle polenta; cod with a smoked-saffron broth and samphire; and gnocchi with sage, Parmesan and kale. Halibut (€26) sang out to me, and was superb. Halibut, a firm meaty fish, can take robustness. In this case, it came with a crubeen rissole and veal jus.
From the early bird mains of cod, roast chicken, and lamb 'ragout', Paul went with the last, which he accompanied with a side order of fries (€4). Tuscan in style, the stew consisted of a forest of lamb cubes, silky lozenges of herbed gnocchi, vegetables and herbs. Topped with a large quenelle of black olive tapenade and Parmesan shavings, it had plenty of bite.
Puddings (€8-9) included chocolate torte; and vanilla panna cotta with cider and spiced apple biscuit. Paul had a lovely, fluffy, lemon-cream and Italian meringue confection from his early bird menu.
There is an extensive wine list but, as I mentioned recently, wine prices have shot up everywhere. It seems that restaurateurs are hopping on 'the recession is over' bandwagon! There's lots of good competition in Dublin, and they need to keep their feet on the ground.
At Stanley's, the cheapest bottle was €27, with two other whites and three reds under €30. After that, prices moved rapidly upwards. We remained stoutly under the €30 mark and with a delicious bottle of Famille Perrin Luberon Blanc 2013 (€29.50) our bill, including optional service, came to €104.50.
Beat a path to Stanley's before the rest of the crowd does.
Stanley's,
7 St Andrew's Street, Dublin 2.
Tel: (01) 485-3273
stanleysrestaurant.ie
lucindaosullivan.com
First Published in the Sunday Indo Life Magazine