Restaurant Review - Rio Rodizio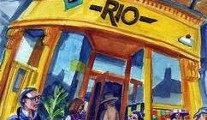 Friday 27 February 2015
Looking at the handsome young passadores move calmly from table to table, carving barbecue meats from three-foot-long skewers, in the new Rio Rodizio in Ranelagh, I thought, 'if Jackie Lavin had been here before attempting a similar performance on TV3's The Restaurant recently, she might have emerged with more than two stars!'
The secret, I realised, was smaller pieces of meat on the skewers, rather than the hunks of meat that poor John Healy, maitre d' on the show, was tasked with hacking through, under the gaze of TV cameras, a ravenous audience and the judges, including myself. Jackie expressed disappointment at the outcome of her culinary efforts but, as I said to her on the night, "you can't be wonderful at everything". All is not lost, and maybe she should give Strictly Come Dancing a go!
Rio Rodizio is a churrascaria (Brazilian steakhouse), which has gaucho chefs barbecuing meats under an open flame. It's a far bigger operation than it conveys from the outside. We were there on a Sunday at lunchtime, and although we were offered a table in the front section, which has a long bar and tables to the side, I could see bright lights enticing me from a distant room. We negotiated our way down the bar, through a narrow passage, which had an open kitchen and a buffet of salads.
Ensconced happily in the high-ceilinged back room, there was, in fact, a further conservatory-style smoking area, where a happy-looking group was celebrating a birthday. A lot of the diners seemed to be South American, and everyone was kitted out as if they were ready to ascend the Andes. Our waitress explained that the procedure was to go to the buffet (as many times as you like) and help yourself. You then indicate when you want them to start serving meat by using the double-sided green/red card on the table. It's the old traffic-light system - green to go, red to stop! That's simple enough for anyone.
We had two good plates from the buffet, including a very tasty hot beef risotto, potato salad, tabbouleh, coleslaw, lettuce cups, Greek and Caesar salads, olives and marinated peppers. There was also a selection of hip finishing salts and dressings.
Our first passadore appeared, serving little chunks of pork belly, followed up with two types of roast beef. I couldn't quite understand their traditional cuts, but one apparently had more fat in it. Both were grand, quite rare, but I guess you could have whatever you wanted. Our next passadore was offering Toulouse sausage, which we rather liked, followed up by garlic beef, which was pretty tough.
Chicken breasts were good, as were pieces of lamb sausage. We'd also been brought a fine bowl of chips, with three dips. Next up on the skewer was a warm pineapple, coated in cinnamon, which was very refreshing. We thought that was probably it, but in fact we got two slices of dessert - one passionfruit and the other a chocolate-based number. The waiting staff were delightful, and we were quietly enjoying ourselves until a more senior member of the Irish staff appeared on the scene and was quite persistent in asking if I had enjoyed it. I was in the middle of responding to a text and said, "sorry, I'm sending a text" to which he retorted, "I thought you were writing a review" and walked off. It changed the atmosphere, and we could have done without the smart-ass attitude.
Rio Rodizio operates on an eat-all-you-wish basis, serving dinner Thursday to Saturday at €29.50, pre-theatre dinner at €24.50, and lunch on Saturday and Sunday at €19.50. Children under 14 can eat for €7, and they also have family lunch and pre-theatre rates. Wine is not particularly cheap with 'from the barrel' prices being €30/€35 per litre and the cheapest bottle being €29, albeit a very nice Trapiche Sauvignon Blanc. Our bill with optional service came to €75 and we rode off into the sunset.
Rio Rodizio,
27 Ranelagh Village, Dublin 6
Tel: (01) 496-9138
rio.ie
lucindaosullivan.com
First published in Life Mag in Sunday Independent