Shop 'til you drop with Enniskerry's village people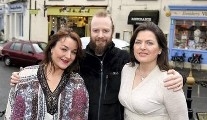 Friday 27 February 2015
With spring well under way, I took myself off for a bit of fresh air and retail therapy to the pretty village of Enniskerry, Co Wicklow.
Over the years, it has featured in movies and TV soaps, with the rich and famous tripping down its streets - including Princess Grace, Daniel Day-Lewis and Kate Capshaw (aka Mrs Steven Spielberg).
A hot destination for tourists, walkers and visitors to the Powerscourt Estate, it has always been a popular day out for ordinary Dubliners. With a community that is a mix of the county set, country folk, commuters and a couple of very famous artistes, the setting is so theatrical that, almost on cue, as I alighted from my car, riders on horseback came clopping down the street.
My first call was to Sandra Archer's Petal & Sand Boutique, which opened just before Christmas. Here I met the very helpful Mary Anne Gallagher who said, "the 70s influence is big for spring, so we have a lot of colourful things in stock".
Look out for gorgeous kaftan tops by Tailya of Paris at €76 and pale gold-knit tops at €105 - fab worn with Farah Fawcett-style white trousers or denims for strolling along the Croisette!
Petal & Sand, Main St, tel: (083) 174-3030
Dara Macken of the Enniskerry Village Store told me that they are there two years this month selling hardware, baking equipment, toys, bags, hats, gloves, keys and also camping equipment. You could happily spend ages here rummaging around, finding all sorts of items from gadgets to board games and novelties.
enniskerryvillagestore.com
Next door is Barbara Kirk's Heart & Home gift store. She makes pretty signs, to cover every occasion, with quotations such as 'a mother holds her child's hand for a short time but their hearts forever…'
Heart & Home, Main St, tel: (01) 276-7943
Santina Kennedy of the eponymous Kennedy's of Enniskerry on Church Hill, told me she and her husband have just celebrated the third birthday of their coffee shop and bakery. "Our menu is short and simple and we have a 'special' every day. We use bread from the Bretzel Bakery, our coffee is Java Republic, and our eggs are North Wicklow eggs with lovely big yellow yolks. Patrick, our chef, does all the baking and desserts."
Santina says her big seller is a 'bacon butty' made from a Bretzel roll with roasted tomatoes, relish and bacon; American visitors love it.
"It's village life here, everybody knows everybody - and if they don't, they soon will.
"Lots of men come in the mornings to drink their coffee. They all know one another and it's a very convivial atmosphere. They are coming in and buying rounds of coffee for one another chatting about sport or property."
kennedysofenniskerry.com
Further up Church Hill towards Powerscourt, Dom Brice of The Parting Glass wine shop laughed as he told me how he opened his business in the depths of the recession.
"We opened in July 2010. I was made redundant in January of that year and I had always talked of doing this for myself. I had always worked in the wine business and my darling wife said 'you've talked about it for long enough'.
"We can't complain about business as we never had the good times in terms of here so, for us, the graph is going up. We are into our fifth trading year, so I suppose we should still be building but, just from what people are buying, there is a slightly more luxurious factor than there was."
thepartingglass.ie
A real Aladdin's Cave is John O'Brien's Enniskerry Antiques Gallery, which is absolutely crammed with gorgeous collectibles of pottery and glass, paintings and small pieces of furniture.
"I was always interested in history, and I did my first antique trade when I was six years old," John tells me. "I swapped five Marietta biscuits for a World War II medal in the school yard - and I haven't stopped since."
"It's really a hobby and addiction that has become a shop. I concentrate on smaller items that are affordable, so I do a lot of glassware, oil lamps, cutlery, costume jewellery and china teacups and saucers, which are very popular at the moment."
On my visit he had an amazing silver-topped glass jug made in Birmingham in 1900. At €680, it was probably the most expensive item in the shop - but it was beautiful.
At the other end of the scale, he also has a lovely Royal Albert cup-and-saucer set at €26, which would be perfect for serving chocolate mousse or lemon posset.
Enniskerry Antiques, tel: (086) 394-0876
Next-door mother and daughter team Aida and Lucina Lennon have the very arty Gallerie Lisette. Lucina is originally an architect and both she and her mother have always been in retail and design.
"We worked together in interiors and refurbishment, so a few years ago we set this up together, and what we are mixing is a crossover between the art and interiors. We do upcycling and we also have our own paint range in cheerful colours," she says.
"Alongside what we do, we have printmakers and other artists on board with us as well. Everything here is hand-crafted. I customize little pieces of furniture and do them up."
Lucina also runs demonstration workshops on how to do paint effects and how to turn your junk into treasure. She also lectures in Dun Laoghaire Senior College.
galerielisette.com
Patricia Ward of the Kingfisher's Kitchen has been there for 11 years. "It had been in the family for 20 years, starting out in one section as a takeaway. I took over from my mother and, after a while, I wanted to expand into a different area of food so we opened the front outside area in what was the old Post Office, starting off with paninis and wraps, which went well.
"We then took over what was a video shop, giving us the ground floor of the building. At one end of the operation is the hot kitchen and, at the other end, a deli prep area.
The Kingfisher's Kitchen, tel: (01) 276-4859
Also look out for Jenny Turner's eponymous boutique, which has been a popular destination in Enniskerry for the past 15 years, stocking a superb range of clothing including Lauren Vidal, Transit, Bitte Kai Rand, Crea and Pons Quintana boots.
jennyturner.ie
Another popular spot in Enniskerry is Poppies, which has been there since 1982 doing wholesome comfort food at good prices.
poppies.ie
So, take a hike out to Enniskerry, trawl the shops and have a bite to eat.
First published in the Sunday Independent