The final dismantling of an Irish Versailles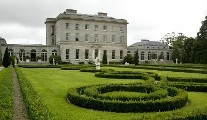 Monday 23 February 2015
Pioneering aviators have always had a certain cachet that attracts glamorous women. It's not just their money; it's that charismatic whiff of danger and the fact that they are risk-takers. Howard Hughes, the legendary billionaire film-maker and aviator, whose life was chronicled in the Leonardo Di Caprio movie, The Aviator, had every top movie star of the time falling at his feet, including Ava Gardner, Katherine Hepburn and Gene Tierney. He was worth billions of dollars, but died in 1976 an unkempt recluse, who didn't seem to have had a lot of pleasure from his billions.
The same can't be said of our own pioneering aviator, Tony Ryan, co-founder of Ryanair, who died in 2007. Ryan, a train driver's son from Tipperary, was a risk-taker and lover of the finer things in life, in which he indulged and enjoyed until his death at his beautiful Lyons Demesne in Co Kildare. Ryan founded the aircraft-leasing group Guinness Peat Aviation (GPA). He was known for being a tough, demanding boss and negotiator, and rumours of fiery board meetings were legendary. Eventually, GPA collapsed and Tony Ryan installed Michael O'Leary at Ryanair, and the rest, as they say, is history.
Like Hughes, Tony Ryan, had an eye for a beautiful woman with personality and spirit. He had a number of such women in his life, the most notable, and probably his biggest influence, being the late Miranda, Countess of Iveagh, with whom he had a long-standing affair. An acknowledged society beauty with exquisite taste, she was very prominent on the Dublin social scene and, as Jackie Kennedy was to Aristotle Onassis, would have been quite a feather in his cap. Before her divorce from the late Benjamin Guinness, Earl of Iveagh, Miranda lived at Farmleigh, Castleknock, now the official Irish State guest house, which has hosted Queen Elizabeth II.
It was around the time of his involvement with Miranda that Ryan bought the dilapidated Lyons Demesne and set about restoring it with an attention to detail that would rival the 'Sun King', Louis XIV of France, when he moved his Court to the Chateau de Versailles. Miranda would have been heavily involved in guiding his hand on the refurbishment of his particular 'Versailles', and the purchasing of the amazing art and antiques within its walls.
I knew Miranda through business connections over the years, and I also met Tony Ryan, with his later partner Martine Head, when he opened The Mill at Lyons restaurant in what I could only describe as Ryan's version of the Petit Trianon - the beautiful Lyons village, on the Demesne. By that stage of his life, he had acquired the polish and charm that absolute confidence, experience and money, brings. Totally gracious, he had a way of making you feel he was focusing only on you, however briefly. I remember Richard Corrigan, who was involved in The Mill at Lyons, telling me, at the time, that Ryan had personally chosen everything, right down to the cutlery and crockery, which surprised me. Speaking very highly of him, Richard said, "he was all over the shop. If you wanted to use anything else, you would have to argue in an intelligent and articulate way. The thing is, he also loved food and was used to all the best places. He would maybe fly down to a three-star Michelin place in the South of France and come back and tell me about a three-tier bread basket, or some such, he had seen down there. He had exquisite taste. I've met so many people with money but no taste. Behind the man who might eat you in business was a man who also loved craft workers. He loved the staff at The Mill, and people who used their hands to do things. He would often throw them ideas. It was amazing. All of the carpentry, stonemasonry and ironmongering was done on site. He wasn't bringing in the stuff from abroad. He would bring over master craftspeople to train local craft workers as to what he wanted. I remember too, towards the end of his life, bringing him fresh, ripe melons from the South of France and he sat there just tasting and savouring them."
You can now get to see a collection of some 80-100 pieces acquired by Ryan, which are being sold by auction on March 24 through Adams Blackrock, , in its splendid, newly renovated showrooms.
"Tony Ryan would have acquired items from here and, as a former client, we are selling this collection. He was probably Ireland's foremost collector of Irish art and furniture," says Bryan Greene of Adams Blackrock. "He rebuilt Lyons House and furnished it immaculately. Sotheby's sold some pieces from the house four years ago, but there were some 80-100 remaining items, which the estate have asked us to sell. There is a certain sadness that such a lovely home, which was painstakingly acquired, has been disassembled. Everything he bought was judiciously researched. He didn't just walk in to any antique dealers and buy something; he would take time to consider its suitability to the house.
The wonderful verde antico 19th-Century George I-style marble-topped side table (estimate €4,000/€6,000) required four men to lift it into the showrooms. We also have six beautiful George III shield-back chairs (Estimate €2,000/€3,000) which adorned the entrance hall of Lyons House, as well as a wonderful George IV brass inlaid walnut and burr-yew circular library table in the manner of George Bullock (estimate €2,000/€3,000)."
Looking at the collection, you could see how many of these pieces were bought with love, to be enjoyed on a daily basis. They are all very accessible price-wise, pleasurable investments with a colourful history. Some of the things I spotted on my visit included a pair of elegant 19th-Century George III-style neo-classical giltwood torchers decorated with Vitruvian scrolls, rams' heads, bell flowers and swags (estimate €1,500/€2,000). An Italian neo-classical marble-topped side table (estimate €1,000/€2,000) decorated with swags and leaves was just beautiful.
I also spotted an Empire-style writing table (estimate €1,000/€1,500) set with black leather, decorated with brass mounts in the form of swans, musicians and anthemions. Apart from beautiful tables, mirrors, chandeliers, sofas and porcelain, there were two fine paintings by 17th-Century Irish artist Charles Jervais. There is a playful side, too, to some of the items. A Victorian wooden postbox bearing a plaque marked 'The Albany Club' (estimate €400/€800) stood in the hallway of Lyons, while a Tyrolean floral painted settle, bearing the date 1682, (estimate €800/€1,200) was formerly in the basement. A hide-covered unusual model of a cow with a bell has an estimate of €100/€200, while Parade Drums with the Warwickshire Regiment coat of arms are estimated at €800/€1,200.
Adams Blackrock is still accepting entries for this sale, in which there will be a lot of interest.
For more information, contact Bryan Green or Martina Noonan, tel: (01) 288-5146, or see adamsblackrock.com
First published in the Sunday Independent