Our Latest Great Place To Eat - Silk Road Cafe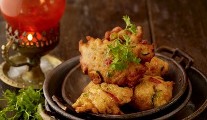 Wednesday 18 February 2015
The Silk Road Café has proved hugely popular over the years with people arriving daily Abraham Phelan's super food such as his delicious aubergine stuffed with lamb, hummus, falafel, beetroot salad, Lebanese pancakes, vegetable moussaka, chicken Tajien; the recipes for which he has generously posted on his website!
Abraham, who for many years has been doing great food at the Silk Road, has over forty years experience in cooking Middle Eastern and Mediterranean food, so when it comes to this kind of cuisine, his are amongst the best possible hands to be in.
At the Silk Road, which is set in a bright and open atrium space and extends into two of the older rooms of the 18th Century former clock tower building, their ethos is to create an epicurean array of dishes from the Middle East, North Africa and the Mediterranean, using only the freshest ingredients, with a focus on providing tasty and varied options for both vegetarians and coeliacs alike. A difficult undertaking no doubt, but Abraham and his talented staff have met the challenge admirably and the Silk Road is a marriage made in heaven for the famous Chester Beatty Library.
Their lunch menu is always great, with a wonderful selection of tasty dishes to choose from, like their coeliac friendly Greek Mousakka with layers of aubergine, potato, courgette, minced lamb sauce and tomato sauce topped with white sauce; or their Turkish chicken marinated in olive oil, lemon and yoghurt and baked to perfection. Their Palestinian chicken, fried with cloves and nutmeg, then served with red onion and sumac, was fantastic when I tried it a few months ago, as were their lamb koftas meatballs with garlic and herbs in a tomato sauce, which I savoured more recently.

Read More: index.cfm/page/viewRestaurant/id/346