Restaurant Review - Dennison's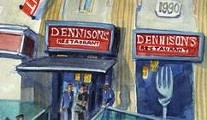 Thursday 19 February 2015
David Dennison has been a well-known name on the food and wine scene in Waterford for many years. He formerly had The Wine Vaults, a popular restaurant and wine business on the city's historic High Street, which sadly closed just as the recession hit and was much lamented.
Happily, David and his wife, Geraldine, are back in the restaurant business with their son, David Jnr, and their three daughters, Sarah, Chloe and Ceara. The extra-good news is that Neil McEvoy, the former chef at The Wine Vaults, is back in the kitchen waving the pots and pans.
I've been commenting of late that all sorts of vacant premises, from former historic public loos to warehouses, are being eyed up now as potential eateries, and it seems the entrepreneurial eye was in action here too, as the new Dennison's Restaurant is located in the former Regal Cinema with its amazing art deco exterior.
It's a big operation; it's broken into different areas, around a central bar, where I almost expected to see Humphrey Bogart with a whiskey in hand, or Fred and Ginger glide by from The Stage Area or The Balcony.
We were in The Window Dining Room, overlooking the street. It's all about "farm to fork" here, with most of the fruit and vegetables coming from the family's own five-acre garden on the Passage East Road, a project they started developing in 2010. They followed up with the planting of their own Rondo vines three years ago. So, watch this space, for we may yet have Waterford vino! They also rear their own poultry and pigs, so they are a family truly engrossed in food and wine.
Brendan kicked off with a cracking salad of tossed, dressed leaves mixed with baked beets and crumbled Triskel goat's cheese, at just €4.95. Eschewing Dunmore East fish and potato cake (€5.95), I opted for a 'special' of their own black pudding (€7.95), sitting on a chubby potato pancake with a perfectly poached egg, which was really very good.
Mains (€9.95-€11.95) included artisan pork bangers with mash and traditional onion gravy; goat's cheese, red onion and thyme tarte Tatin; and roast supreme of free-range chicken with peppercorn cream sauce.
Brendan had the 'joint of the day' - a whacking great portion of melt-in-the-mouth braised shoulder of home-reared pork (€11.95) with stuffing and apple sauce.
I had almost forgotten that homely stuffing was traditional with roast pork in the old days, as you seldom see it now. I had the Dunmore East 'catch of the day' which was a fine tranche of hake (€11.95) with perfectly seared skin, resting on a celeriac puree, and came with a white wine and lemon cream sauce. The mains were accompanied by a rich, creamy mash and chunky carrots.
We shared a delicious pear and walnut tart (€5.95) with home-made ice-cream, which was created by Dennison daughter Ceara, who having returned from the Waterfront Restaurant in Ipswich, is assisting Neil in the kitchen.
The dinner menu includes dishes such as baked crab creme brulee; duck liver parfait; Dunmore East black sole; O'Reilly's farm lamb; Aylesbury duck, and steaks.
These people know about good food and good produce. It's not about creating tiers and tasteless layers, it's good, classically prepared, well-presented food, with a French twist - and it's all about taste.
As would be expected of David Dennison, there is an extensive. well-chosen wine list with virtually all of the wines available by the glass, 50cl carafe, and the bottle. With a glass of full bodied Pizarras de Otera Mencia 2012 (€7.25) and mineral water (€2.50), our bill with optional service came to €57.50.
Dennison's Restaurant, Forum Waterford, The Glen, Waterford, Tel: (051) 871-122
dennisons.ie
lucindaosullivan.com
FIRST PUBLISHED IN LIFE MAG IN THE SUNDAY INDEPENDENT