RINUCCINI'S 25TH ANNIVERSARY FEAST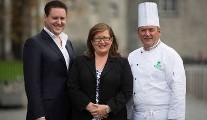 Wednesday 18 February 2015
At the tender age of 15, Antonio Cavaliere left his home in Italy to join his older brother, who was already working in Quo Vadis, a well-known Italian restaurant in Dublin, which operated for many years in St Andrew's Street.
It must have seemed a very daunting prospect for a young boy at the time, but now, many years on, Antonio Cavaliere and his family are celebrating the 25th anniversary of their hugely popular Ristorante Rinuccini in Kilkenny by hosting a series of special events and dining experiences throughout 2015.
Rinuccini, named after the 17th century Papal Nuncio and gourmand, Cardinal Giovanni Battista Rinuccini, who lived in Kilkenny, is one of the best restaurants in the country. It's high-end Italian cuisine, with wine, service and an ambiance to match. The only thing wrong with it, as far as I am concerned, is that it is in Kilkenny and I am in Dublin!
Antonio worked for some years in Quo Vadis, where he also met his dynamic wife Marion Power, who works front of house in Rinuccini. They are also now joined in the business by their son Riccardo and his wife Orla.
Located in a Georgian house in the shadow of Kilkenny Castle, the business has grown from an initial team of eight to 25, and seats 100 people in luxurious surroundings over two floors. They also have an amazing wine cellar, visible through glass panels in the upper floor, where Antonio tells me that there are plans to put in a long communal table. Antonio and Marion are big supporters of local Irish produce, while all of their Italian produce, such as salumi, cheeses, extra-virgin olive oils and wines are selected by them personally from artisan producers in Italy.
Talking about changes in people's tastes and requirements, in the 25 years he has been in business in Rinuccini, Antonio told me that "people want more sophisticated food and they want less calories, which we can accommodate. Previously, people would eat steak with fat, now it has to be trimmed. Things are changing to become more modern, not so many thick sauces - we don't use flour anymore. It's all an evolution, we would use vegetables now to introduce sauces, it's changing all the time.
"A lot of people too are coeliac or vegetarian, which we can also accommodate. People do look at prices, but we are able to give them the variety, because pasta can be used as a main course as well, and it is not as expensive as meat or other dishes. People are more sophisticated now. It began for me really after people had travelled to Italy for the World Cup in 1990. They came back and they really knew what they wanted. They are entitled to get what they want and we are here to serve them.
"They were always good eaters and they are getting better," laughs Antonio.
To launch the year's celebrations, the Cavaliere family hosted a celebratory dinner, attended by local dignitaries, with a spectacular 25th Anniversary Tasting Menu. We were privileged, too, to enjoy the splendid matching wines from the Corte Normanna organic winery in Campania, a fourth-generation family-run farm extending over 20 hectares including two hectares of olive groves.
Alfredo Falluto of Corte Normanna talked us through each of the accompanying wines, ably translated by Marion. They got us off to a good start at the pre-dinner reception with Falanghina Del Sannion DOP extra-dry Spumanti, which put an immediate sparkle in our eyes!
The tasting menu kicked off with an impressive antipasto di mare of fresh seafood from Kilmore Quay. Each precisely perfect element on the plate was individually dressed, including a perfectly-seared scallop, a delicious crispy prawn, smoked salmon and a crab melange. This course was accompanied by a Greco di Sannio DOC 2013, a fresh and dry wine with subtle floral and honey nuances.
Next up was ravioli al Gorgonzola e noci and it is almost impossible for me to put into words how gorgeous this was! I don't think I ever before saw a roomful of vociferous foodies fall almost silent, blown away by the flavours and elegance of the dish. Handmade by Antonio, the pasta was gossamer thin in texture and ethereal on the palate. Filled with fresh spinach and ricotta, it was finished with a Gorgonzola and white wine sauce, before being dusted with Italian walnuts and spiked with julienned radicchio for colour and texture. It was accompanied by a cracking round-bodied Sannio Fiano DOC 2013.
After another little chat from Alfredo as to what we had yet to look forward to quaffing, and plenty of humour from Marion, we were in for another treat of spezzato di vitello - roast sirloin of veal. Happily too, this was not milk-fed veal, but rose veal bred by the Madigan family on their farm a few miles down the road in Windgap, Co Kilkenny. Again exquisitely presented, a fine brace of veal steaks were lined up with military precision across the plate, alternating with chargrilled fennel and napped with a garlic, sage and Greco di Sannio white wine sauce. A second element to this wonderful dish was a rich and tender veal casserole braised in Aglianico red wine. The matching wine here was a powerful Tre Pietre DOC 2011.
An Italian cheese plate to follow sported Parmigiano Reggiano DOP (24 month), mozzarella tartufo nero, Taleggio DOP, and Gorgonzola dolce DOP, served with home-made oat biscuits and spiced-plum-and-apple chutney.
Yet more treats were in store for us by way of a luscious dessert plate with an elegant quartet of tiramisu, cheesecake, chocolate mousse and a mini ice-cream cone. These were accompanied by a divine deep amber Porte dell' Olmo Falanghin Passito 2009.
Coffees, chat, grappe and limoncello were the order of the evening as, after service, the amazing hard-working kitchen team came out and took their more than well-deserved bows.
So, that's what top-notch Italian food is all about. I'm so glad I discovered Rinuccini some 15 years ago when in Kilkenny for a family occasion and it has become a firm favourite. We really have to honour our long-standing restaurants for all the hard work and contribution they have made to good food and happy times in our communities.
For more information, see rinuccini.com
First Published in IRISH LIFE in the Sunday Independent