Our Latest Great Place To Eat - Pullman Restaurant @ The Glenlo Abbey Hotel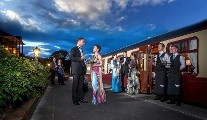 Wednesday 11 February 2015
The hotel itself is head and shoulders above most others when it comes to luxury and character; and their fabulous, one of a kind, dining room is no exception. The room itself is made up of two original carriages from the world famous Orient Express.
The carriages have been restored and marvelously decorated and displayed in their new home on the grounds of the Glenlo Abbey Hotel with views of the fabulous estate and the picturesque Lough Corrib. At the Pullman, they're just as meticulous and particular about the food they serve, with a menu that reflects some of the many destinations along the train's famous route. The majority of the herbs used in the restaurant are grown on site at the Hotel and their meats come only from dependable Irish sources, many of which are local, which can be all be traced from farm to fork, so to speak.
The whole experience of dining aboard the Pullman screams class and sophistication, and, on my visit, all of the other diners seemed to recognize that sharp dress was the appropriate attire for this particular carriage ride. Not that dinner at the Pullman is a stuffy occasion, by any means, but the atmosphere might lose some of its magic if jeans and plaid abounded. Regardless, the staff at the Pullman would treat you like royalty, as they do all of their patrons.
When I was there, starters included a confit duck rillette and foie gras ballotine served with a spiced orange fluid gel and toasted brioche; cappuccino of wild mushroom soup served with a truffle foam; as well as a Bluebell Falls goats cheese mousse with black olive dust, beetroot jelly, baby red chard and beetroot emulsion. I decided to try their poached Atlantic salmon and silver darling herring a la Nicoise salad, which tasted wonderful with Kalamata olives, green beans, tomato, boiled quail egg and a drizzling of honey and mustard dressing. Himself opted for the Irish Sea king scallops, which he said were absolutely mouthwatering with an onion soubise, watercress pesto and Parma ham crisp
Read More: index.cfm/page/viewRestaurant/id/345