Restaurant Review - Chapter One - Chef's Table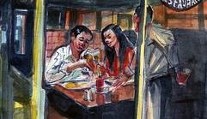 Wednesday 11 February 2015
"How to handle a woman?/There's a way, said the wise old man/A way known by ev'ry woman/Since the whole rigmarole began"
So sang King Arthur in the famous 1967 movie Camelot, which starred Richard Harris, with Vanessa Redgrave as Queen Guinevere, who fell for the dashing Sir Lancelot, who was played by Franco Nero.
Camelot may have ended in tragedy, but the real-life love story of Vanessa Redgrave and Franco Nero - they caused a scandal at the time by having a son out of wedlock - is even more beautiful because, after almost 40 years apart, they were reunited, and married in 2006.
February is the time of romance, so that might put you in the mood for doing something special with your amour on St Valentine's Day. As it falls on a Saturday this year, you might make a weekend break of it. Alternatively, another romantic story of the rich and famous might inspire you. When Aristotle Onassis was wooing Jackie Kennedy, he always booked out the restaurant.
The nearest very special experience I can get to that, is a visit to the chef's table at the Michelin-starred Chapter One restaurant, to partake of their tasting menu at €95 each, with matching wines available at €45. The chef's table here is a plush, enclosed glass booth, in which you have privacy and a view of the kitchen happenings; and you do feel really special.
John Healy of TV3's The Restaurant was my dining companion on a recent visit, but there were certainly no TV-style tears and tantrums in this kitchen. The exquisite food pairings by Ross Lewis at Chapter One are what make it so special. Each element is meticulously presented, yet not so over-the-top as to lose the actual flavour of the food - as I am seeing in some new restaurants.
They say you eat with your eyes, but Michel Roux Snr maintains he learned from his one-time employer, the fabulously wealthy Baron Philippe de Rothschild, that flavour was more important than presentation.
Our first course had organic beetroot in two pieces, served with St Tola goat's cheese and shallot, all brought to life by vibrant preserved lemon, and scattered with smoked almond crumb. The matching wine was Heinz W Gruner Vetliner. Next up, was a seared scallop with crushed Jerusalem artichoke, white onion puree, unfermented chorizo, with a cider and lemon emulsion, matched with a delicious Burgundy Boisset Macon-Ige Chateau London 2012. We moved on with a change of colour and texture, to deep-red slices of smoked venison, with onion jelly, marinated foie gras, smoked bacon and chestnut fritters, pickled shallots and cubes of Sauternes gel. It would be hard to top that dish anywhere. The matching wine was Chateau Laville Sauternes 2009.
Breast of pheasant was next, served with a light Parma ham farce and creamed cabbage with smoked bacon. Penfolds Bin 51 Riesling was the wine match here.
Braised daube of beef in red wine came with creamed pearl barley, celeriac and truffled king oyster mushrooms; again, this was dancing off the plate, with vibrant elements of translucent green. It was paired with Fatalone Gioia Del Colle Primitivo 2009.
"Flavours of carrot cake" was amazing - it had a large quenelle of carrot sorbet centre stage, flanked by a perfect, carrot-sized soda bread tuile, a playful fluff of what looked like 'sponge' from the sea bed, sprinkled with pecan crumble and dots of maple syrup. To finish, we had a geometric arrangement of coffee and cocoa bean ice-cream, cranberry jam, honey-roasted oats, mace parfait, confit Clementine and sparkling cranberry soda. A six-course tasting menu at €50 is also available at lunchtime, with matching wines at €30.
How to handle a woman? If that doesn't do it, then nothing will!
Chapter One,
18-19 Parnell Square,
Dublin 1
Tel: (01) 873-2266
chapteronerestaurant.com
lucindaosullivan.com
First published in Sunday Indo Life Magazine