Restaurant Review - Delahunt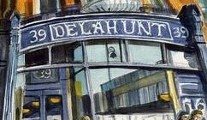 Tuesday 03 February 2015
Jack Carville's was a legendary off-licence, set in a fine Victorian building on Camden Street, famous for its historic atmosphere and its wide range of wines and spirits. With a high ceiling, a long mahogany bar and a rather splendiferous old-world cashier's office, it was reminiscent of the Are You Being Served-ish times of yore, when Clerys department store had a 'high-wire' payment system.
It was high-tech stuff in those days; the sales assistant would put the money in a 'pod' which, with the pull of a lever and a whoosh of suction, sent the 'pod' flying across the wires to the cashier's office, where payment was taken and the receipt and change dispatched back in the same manner.
However, even before it was Carville's, this building was famous as Delahunt of Camden Street, purveyors of groceries and provisions, including geese, turkeys, teas, wines and whiskies. It is even mentioned in James Joyce's Ulysses.
It has just re-opened as the meticulously restored Delahunt Restaurant and Bar. The cashier's office is now the cutest of snugs, with a long table - the setting for food and fun, rather than fiscal policy! Indeed, on our visit, a group of restaurateurs and foodies were holed up in there -it was going to be a long day!
The walls are a blue-green, the wooden flooring is gleaming, the splendid mahogany shelving is lined with wine, the table tops are marble, and the original 'Delahunt' sign hangs on the wall. It's Darren Free's venture, with the kitchen headed up by Dermot Staunton, and it all feels like a labour of love. We visited at lunchtime and were offered a concise lunch menu sporting three small plates (€7-€9), two mains (€12-€13), with sides of roast potatoes and Brussels sprouts at €3.50 a pop, and desserts at €7.
A further a la carte menu, which they also serve in the evening, had mains priced from €18-€25, including roasted hake with wine and beetroot braised lentils, leek and lardo di Colonnata; and beef-cheek braised in stout.
Sticking with the 'short' lunch menu, Paul kicked off with an elegant salad of pear and Bellingham Blue cheese (€8) admirably showcasing lean, crisp and sweet combinations of chicory, walnuts and a golden Oloroso dressing. I had home-smoked salmon (€9) which was smartly executed in lean, narrow strips, meticulously put together, and accompanied by horseradish, pickled cucumber and delicious sweet Guinness bread.
Paul followed up with a fluffy-mash-topped beef and stout cottage pie (€12), served with crispy curly-kale, which he loved. I was equally happy with my guinea fowl with Morteau sausage stuffing, crushed swede, sprout shells and whole roast parsnips (€13). We passed on sides and shared a colourful, luscious rhubarb fool (€7).
Everything was excellent and well priced on an individual basis but, if you go for three courses, plus even one side, it can work out over €30 a head, sans coffee. With so many good value 2/3-course table d'hote lunch offers around the city, I think they'll need to package this option if they want to compete in the lunch trade.
I'm also noticing an increase in wine prices in restaurants in recent months, with the entry level in many cases now being €28, even in the unlikeliest of places. I was particularly surprised, in one place, which I'd call a 'panini joint', to see their cheapest wine was €28, which was, ironically, the same entry level as a five-star hotel across the road from them.
People will spend a few euro more nowadays, but they don't like to be forced into it! Happily, at Delahunt, the entry level was €24.50 by the bottle, with three wines of each colour under €30. With a bottle of La Closerie des Lys Les Fruitieres Blanc 2012 (€26), a soft, unoaked Chardonnay/Vermentino blend, our bill with optional service came to €82.70
Delahunt is delightful.
Delahunt.
39 Lower Camden Street, Dublin 2.
Tel: (01) 598-4880
delahunt.ie
lucindaosullivan.com
First published in Life Mag in the Sunday Independent