Restaurant Review - East Side Tavern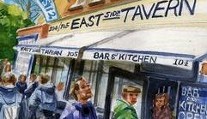 Thursday 29 January 2015
As we approach the end of the first month of 2015, it is fascinating to see the number of new restaurants opening in Dublin. I never have to think about where I will go because there is always something fresh and interesting to try.
Most, however, are being opened by local restaurant 'big boys' who, no doubt, are very experienced as to operations and trends, but this makes it very difficult for the individual chef or restaurateur to compete, as premises are being snapped up before they ever hit the market. From run-down pubs to former toilet blocks, basements to warehouses, I'll bet they are all being assessed by someone right now.
Paddy McKillen's Press Up Entertainment Group has 16 bars and restaurants in its stable, including Wagamama, the Vintage Cocktail Club and the new Dean Hotel. John Farrell runs 777, the Butcher's Grill and Super Miss Sue among others, while Alan Clancy operates 37 Dawson Street, House on Leeson Street, Meet & Meat, and the Thomas Read pub facing Dublin Castle. Vincent Melinn has Fade Street Social, Brasserie 66 and Rustic Stone. Fallon & Byrne has expanded to Dun Laoghaire, with another branch in the pipeline in Temple Bar, and so it goes on.
This week's review is from the portfolio of Frank Gleeson's Mercantile Group, which already runs The Green Hen, Marcel's, Opium, Pichet and Le Petit Parisien. The new East Side Tavern is set in what was once O'Dwyer's pub on the corner of Leeson Street and St Stephen's Green East. This was a hot spot in the 60s and 70s with students, from the then UCD on Earlsfort Terrace, and politicians of the time with their mohair suits.
The place was hopping when we arrived at lunchtime. We were met by a very welcoming waiter, who showed us to a really cosy little nook at the end of the bar. There is a feature display of some 250 whiskies and spirits, and they are stressing that this is a "bar & kitchen". I'd call it a proper gastropub, as it really is doing restaurant food in a pub setting - but I guess the other terminology must be cooler now. I'll settle for a gastrobar! Certainly, the food is being taken seriously, with the head chef being Niall O'Sullivan who was previously at Isabel's on Baggot Street.
The lunch menu had dishes from €10-€24, including salt-baked beetroot with Wicklow buttermilk and blackberry; spaghetti marinara and a 10oz sirloin with Cafe de Paris butter. There were also charcuterie boards, but an Express Lunch menu at €14 for two courses, or €16 with dessert, proved irresistible, as it incorporated a la carte mains and you save a few bob. The idea is that "soup or salad" arrives pronto and the mains come as soon as they're ready.
My friend Paul had the rich, creamy cauliflower soup, which was delicious, but I was greatly taken by the fact that my salad was tongue, which you seldom see. Simple, sleek and sophisticated, it was topped with wafers of radish, capers, onion, dill and celery leaves.
Paul had the "pie of the day", an expertly executed golden dome of pastry, filled with chunky chicken and served with chips and frisee. Lamb ragu was rustic, wintery Tuscany on a plate. The tender lamb was perfection, lying in its broth with golden globes of silky gnocchi and cavolo nero, topped with big, creamy ribbons of Parmesan.
For the extra €2, Paul had 'beeramisu' in a glass (made with beer instead of coffee), but I wanted to see what Chef O'Sullivan did with a woodruff set custard, apple sorbet and sorrel granita (€7). Pure heaven, it evoked the coming days of spring, with shades of apple and forest greens melding with cream and beige mists - almost too good to eat.
With a bottle of aromatic Ruedan Telmo Rodriguez Verdejo (€32), mineral water (€4), two espressos (€5) and service, our bill came to €88.
The kitchen opens from noon to 9pm, and now you also know the best table in the house.
East Side Tavern,
104 Lower Leeson Street, Dublin 2.
Tel: (01) 678-9529
eastsidetavern.ie
FIRST PUBLISHED IN LIFE MAG IN SUNDAY INDEPENDENT