Our Latest Great Place To Stay - Glenlo Abbey Hotel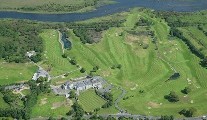 Tuesday 27 January 2015
The Abbey is the ancestral home to one of Galway's famous tribes, the Ffrench family, who first arrived in Galway in the early fifteenth century. The five bay, two-story Glenlo Abbey House was built in 1740, with the abbey itself being constructed in the 1790's as a private church for the family. In the 1980's, the house and estate were bought, restored and converted - transforming it into a remarkable hotel, while still retaining the history of its walls.
Arriving through the doors of the reception area was like stepping back through glorious time. There was a real air of 19th Century grandeur from the beautiful gold wallpaper, to the finely polished wooden furniture and floors, to the twinkle of the chandelier overhead, not to mention the open fireplace making the room toasty and inviting as we entered.
Our room at the Glenlo was very spacious and really quite wonderful with a breathtaking view over the Lough and the grounds of the estate. The room itself was beautifully furnished with a soft crème and gold décor that perfectly matched the antique furnishings. But don't worry, all modern facilities were there also with a 40 inch TV, DVD player, WiFi, mini-bar, and an Italian marble en-suite bathroom complete with power shower. I have to say, I had one of the best sleeps I've had in a long time whilst staying at Glenlo Abbey. If you're looking for an extra hit of grandeur, try one of their suites; which are enormous and many feature separate living and dining areas not to mention four-poster beds.
One of the biggest attractions of the Glenlo Abbey Hotel for my other half is their lakeside golf course and driving range.
Read More: index.cfm/page/viewHotel/id/173