Our Latest Great Place To Eat - The Locke Gastro Pub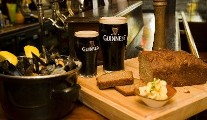 Tuesday 20 January 2015
Whilst visiting the 2014 City of Culture, I stopped for a bite in Locke's Gastro Pub on George's Quay. Locke's itself could be considered part of the city's culture, being situated on the site of one of Limericks oldest pubs dating back to 1724 and standing alongside monuments such as St. Mary's Cathedral, King John's Castle and The Hunt Museum. The interior of the pub is warm and inviting with a polished wood finish, enhanced by the glow of an open fire. Locke's has won numerous awards, such as Ireland's Best Tourist Bar, Limerick's Best Gastro Pub, Black and White Pub of The Year, Dining Pub of The Year and lots more, by serving the kind of unpretentious food that everyone loves; but doing it really well.
They had a great range of starters on my visit, like Ballycotton seafood chowder with homemade soda bread, Dingle Bay crab claws with garlic and Chardonnay cream, as well as a pear and Cashel Blue cheese salad with candied walnuts and French dressing. Castletownbere organic mussels a la marniere was tempting, whilst Roaring Water Bay oysters were with sherry vinaigrette and homemade soda bread sounded delicious also. I decided to try their Burren Oak smoked salmon, which came with chive cream cheese, red onion and a caper salad, all of the pairings which I love. My partner-in-dine, Mary, went for the gambas pil pil, a dish of sizzling prawns in garlic, chilli, olive oil and served with crusty bread. I'm told it was fab!
Looking to the mains, there were offerings like a Bantry Irish lamb stew with root vegetables and creamed potato, cornfed escalope of chicken with colcannon potato and a mushroom and chorizo cream, and also an 8oz classic cheese burger on a brioche bun, with Gubbeen cheese, Locke's burger sauce and fries. O'Hara's ale battered market fish and chips with a mint pea puree and homemade tartar sauce tempted, as did their famous seafood platter. However, in the end, I decided to try their "sensational seafood pie" which more than lived up to its name with delicious chunks of fresh fish and a creamy Parmesan mash topping; beautifully prepared and so full of flavour. Mary decided to try the spinach and ricotta ravioli with truffle cream, aged Parmesan and wild rocket, which she loved and finished rather promptly.
Read More: index.cfm/page/viewRestaurant/id/344