Lucinda meets Mayo Food Producers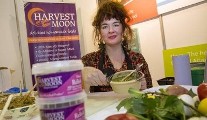 Monday 19 January 2015
We all seem to know, or know of, someone who has walked the Camino de Santiago, and come back raving about the simplicity of life on the road and its artisan food.
Coming up with a compelling 'handle' for a particular area is a great marketing tool, which can suddenly transform a region into one of the hottest destinations on the planet. We have seen this here recently with the Wild Atlantic Way, which has grasped the imagination of tourists to our little green isle.
We all know our map hasn't in fact changed at all, and that these beautiful places have always been there, but selling it as the Wild Atlantic Way to the world has been an ingenious idea. However, within the length and breadth of the Wild Atlantic Way are wonderful trails and routes to explore. A few years ago, Mayo came up with the concept of the Great Western Greenway, the longest off-road walking and cycling trail in Ireland. It covers 42km from Westport to Achill Island, and is superb.
Our wonderful 'green and clean' food is also a huge attraction for visitors. Within Mayo - as well as great hotels, chefs and restaurants - there are some 70 or so artisan producers. I spoke to some of them recently and they told me about their businesses.
Tomas Tierney of Belmont Organic Venison Farm has been farming native red deer for 16 years. Tomas told me the native red deer are perfectly suited to organic farming, as they are very hardy, able to withstand harsh weather conditions and will successfully grow and thrive on their rich, clover-based pastures. "The consumption of venison has increased greatly following quite a lot of exposure of the product on various cookery programmes. We supply some restaurants, but my main aim is to bring it direct to the consumer, so we sell directly on-line and have it delivered to your door," says Tomas. You can purchase venison boxes with various cuts at different prices to include steaks, roasts, burgers, and diced venison for stews and pies. See belmontorganicvenison.ie
Angela Carney is based in Westport and produces hummus and pesto under the name of Harvest Moon Foods. This business started only two and a half years ago. "Being a nutritional therapist, I discovered that many types of hummus and pesto on the market contained a lot of preservatives, additives and cheap ingredients, so I decided to create ones that were healthy."
There are now five people employed at Harvest Moon Foods and the products are stocked in 35 shops nationwide. All the hummus varieties, pestos and pates are produced with no salt, sugar, wheat or gluten.
"I sell to a lot of SuperValus and gourmet stores like Morton's in Ranelagh, Nolan's in Clontarf, McCambridge's in Galway, and I'm just about to go into Tesco on a local level."
Her hummus range includes varieties from sweet potato and coriander to carrot and caraway seed, as well as red pepper, basil, pesto and natural hummus. See harvestmoonfoods.ie
Sean Casey of Westport Grove jams and chutneys started his business about five years ago. "I was previously employed for 25 years with a pharmaceutical company, but I wanted to do something different. I do a range of jams and chutneys, sugar-free jams and fruit pastes. Some of my unusual varieties would be raspberry and pomegranate, and kumquat-and-vanilla marmalade." Sean also produces fig-and-quince paste, which is wonderful with cheese. See http://www.kcb-qrky.eu/index-2.html
Redmond Cabot of Cabot's of Westport produces a range of pates, dips, hummus and sauces, hand-prepared in small batches with no preservatives or additives. Look out for Achill Island smoked mackerel pate and his beetroot-and-sage dip. "I'm a jackeen originally and I moved west in 2000, when I started Westport's first dedicated wine and food shop. I started all over again about four years ago selling my Red's Sauces in the local country markets. Our local SuperValu then asked would I like to sell the product there. We re-branded a year ago as Cabot's of Westport. We got support from the Local Enterprise Office and built a new kitchen unit and so we are now employing three people locally." Tel: (086) 601-6179.
Green tea has been proving popular and this inspired Christine McAndrew to develop Mariko, a sparkling green-tea drink which, with no sugars or sweeteners added, is calorie free. Christine was already in the food business with a company catering for schools in the Belmullet area.
"About three years ago we started to research the benefits of green tea and a year ago we launched Mariko. It's a pure product - no sugar, no calories, nothing added. It has a very high level of antioxidants called EGCG. It's very good for your metabolism and dieting." See mariko.ie
Wildwood Vinegars, by Fionntan Gogarty, are based in Carrowmore Lacken, Co Mayo. "As a family, we have been making them for generations, but commercially we have been producing them for just under two years," says Fionntan. The idea of taking them to the market came about almost accidentally. "I entertain a lot and a particular chef came for dinner and was so intrigued as to what the secret ingredient in my vinegars was that he had to inspect my larder! When we did, he said to me, 'These have to be sold', so that was my inspiration for bringing them to market. They have found their way into The White House, Windsor Castle and Aras an Uachtarain."
Fionntan's range includes wild Mayo blackberry vinegar, wild Mayo mountain heather vinegar, and Lough Conn water mint vinegar, to name but a few. "We supply a number of restaurants, but we have a finite production. We make seasonally, so we have to be able to guarantee a continuous supply for chefs who have them on their menus." Tel: (087) 925-8134
One of the best-known people in the food business in Mayo is Sean Kelly of Kelly's of Newport. This butchering business was started in the 1930s, but has been run for the past 30 years by Sean and his brother Seamus, with Sean's two sons now also involved. They specialise in the production of traditional black pudding, winning awards left, right and centre. One of their most innovative and popular puddings was the Pudding Pint of Stout, shaped like a glass of stout, which won a gold award from the Confrerie des Chevalier du Goute Boudin in France. See kellysbutchers.com
So, think of taking a little off-season trip to Mayo. There are some fabulous hotels doing excellent food, including Mount Falcon and the Ice House in Ballina, the Mulranny Park Hotel in Mulranny, Newport House in Newport, Knockranny House Hotel, Westport Plaza and Mill Times Hotel (all in Westport), the Harlequin Hotel in Castlebar, Ashford Castle and The Lodge at Ashford Castle, to name but a few.
See greenway.ie and Mayo.ie
First Published in The Sunday Independent