Restaurant Review - Beeftro Balfe Street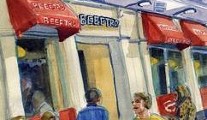 Thursday 29 January 2015
Beeftro, a steak house with a French twist, opened just over a year ago in Dundrum Town Centre. Describing itself as a purveyor of viandes de qualite, the idea started originally in Monaco and now has branches from Mexico to Moscow. It seems it's gone down well, too, in the 'burbs and they have now opened in Dublin 2 on Balfe Street, opposite the Westbury Hotel.
Whilst the Dundrum branch is 'Art Deco Parisian cafe' style, for the about-towners they have gone the full welly, with a Franco-American style diner with lots of red to the front, causing my friend Mary to exclaim, "I thought it was Eddie Rocket's!"
On a ground-floor and basement level, the retro theme continues, with urban, white-tiled walls and dark-leather banquette seating. The head chef is Ryan Bell, who was originally with Shanahan's on the Green, so he knows a good steak a mile away. The Balfe Street menu is slightly more contained and citified than Dundrum.
They are majoring in the hot-to-trot, higher-end 300g New York striploin (€27), 200g filet mignon (€29.50) and 300g rib-eye (€27) steaks, with a cheaper option of a 300g sirloin rump at €18. Each steak comes with potato puree. Extra sides are €4.50, including garlic mushrooms, salad, market greens, and truffle or roasted-garlic potato puree. Burgers (€14.50) are Irish Black Angus beef served two ways - as a chilli cheeseburger or as a bacon cheeseburger, both of which come with French fries. They also have daily blackboard specials which, on our visit, were a beef salad and superb-looking turbot.
Starters (€6.95-€12.00) included French onion soup with a Gruyere crouton; skillet-roasted cheese and chorizo bread; as well as interesting-sounding monkfish and prawn bon-bons sporting Mexican twists of jalapeno avocado puree and passion fruit.
Mary had the beef salad special (€9.50), which she absolutely loved, having fashionable and oh-so-good-for-you dressed kale, plentiful chunks of tender beef and lavish shavings of Parmesan. I had crab and prawn Thermidor (€12). Served in a black skillet, it was absolutely delicious, with a great intensity of flavour and plenty of precious prawns and cracking crab meat. Mary had the bacon cheese-burger (€14.50) sans the bun, and it was succulently mouthwatering, topped with greenery, a big round of beef-tomato, fries and two little dishes of Beeftro sauce and pepper relish. There is an ocean of difference between a good piece of meat and a mediocre piece of meat. Here, my filet mignon (€29.50) was absolutely superb - top quality, soft and silky as butter. Perfectly cooked, delicious flavour, hard to beat. Nay, historic! Not wanting potato puree, they let me have crispy onions instead. I don't like the fact that the garlic butter, pepper and Bearnaise sauces are €1.50 each. They should at least throw in one, but I did cough up for the garlic butter (€1.50).
Desserts at €6.50 included vanilla creme brulee; warm chocolate brownie with peanut butter ice cream; raspberry and lime marshmallow, ice-cream and hot-chocolate sauce; and salted-caramel, honeycomb and pecan sundae. We shared the salted-caramel sundae and it was an oozing, thoroughly sinful concoction of crispy broken honeycomb, ice cream, dripping salted-caramel and everything that adds on more pounds!
There is a good selection of wines to cover pockets deeper than mine on a night out with the girls, including Lupe-Cholet Puligny Montrachet at €125, but with a bottle of Les Cazalet Picpoul de Pinet 2012 (€29), optional service and two espressos (€1.95 each), our bill came to €115.90.
Service was charming and we definitely got what we paid for. There was a buzzy city feel and we really liked Beeftro mark 2. They also do casual weekday lunch specials from noon to 4pm around the €10/€14 mark.
Beeftro
4-5 Chatham House,
Balfe Street,
Dublin 2.
Tel: (01) 677-9377
beeftrodublin.com
lucindaosullivan.com
FIRST PUBLISHED IN LIFE MAG IN THE SUNDAY INDEPENDENT