Our Latest Great Place To Eat - La Perla @ The Lyrath Estate Hotel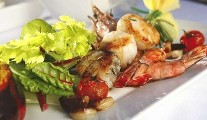 Friday 16 January 2015
At La Perla, they believe in creating authentic dishes from the highest quality and freshest of ingredients, without unnecessary frills. I love this ethos of just letting the quality of the produce speak for itself rather than too much fussiness which I see in lots of place. They also have a fantastic range of wines to choose from, with more than 75 different bottles gracing the menu.
When I was there, starters included Connemara wild Irish mussels with a tomato and chilli broth; homemade chicken liver parfait with a selection of homemade pickles, orchard apple puree and micro leaves; as well as a warm salad of roast butternut with red onion and sunflower seeds, figs, mascarpone and seasonal leaves. I decided to try the 'Study of Fish', which included a mini prawn cocktail, cured sea trout, pineapple and pickled ginger, seared scallop and a citrus emulsion. I was in fishy heaven! Brendan chose the chilled salad of beech smoked Magret duck, which was served with confit duck croquette, toasted mixed seeds, mulled plum and plum coulis; which he quickly devoured.
For the mains, I found myself torn between their 'Assiette of Pork', which was seared loin of pork with slow cooked pork belly, Clonakilty black pudding and vanilla and apple puree; and their 'Trilogy of Salmon' which would be served sesame crusted, with a beetroot and anise puree, and dill yoghurt. The salmon sounded great, but having just had fish I opted for the pork and was far from disappointed by the succulent dish I was presented. Himself, carnivorous as ever, happily chose the Irish Beef tasting plate with celeriac and white truffle scented puree, baby carrot and a red wine jus.
Read More: index.cfm/page/viewRestaurant/id/343