Restaurant Review - Tavern at the Dylan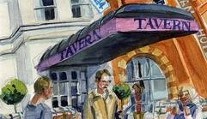 Thursday 15 January 2015
The five-star Dublin boutique hotel, the Dylan, has followed the trend of international high-end hotels by de-formalising its restaurant, while still delivering fine dining on the plate. Renamed the Tavern, the restaurant's new executive chef is Mark Bodie, who was previously at Sebastien Masi's excellent Pearl Brasserie. So, it is out with the tablecloths and in with wooden-topped tables. But you won't be slumming it - this place is as luxurious and chic as ever, but more relaxed in style.
Bodie has delivered a concise menu, with six starters and six mains, focusing on seafood with, of course, the carnivore also catered for. Starters (€7-€14) included Brandy Bay oysters with a cucumber dressing. Sweetcorn soup was served with truffle cream and chicken wing, while seared scallops were paired with the fresh, clean tastes of scallop tartare, apple, cucumber, lime and coriander.
An amuse bouche of warm pumpkin soup, laced with pungent nutmeg, filled a little glass bowl, which had a quirky zig-zag mini-spoon hanging off the side. After a couple of efforts with the spoon, it was a case of pick up the bowl and knock it back! My friend Rena had Toonsbridge mozzarella salad (€12). The creamy ball of cheese was surrounded by the vibrant greens and reds of Heritage tomatoes, tweaked with 'wings' of black, squid-ink crispbread, and a sprinkle of frozen 'Bloody Mary' ice-pop shavings. She loved it.
I had crabmeat (€12) which was served in a gently formed tian. Again it was a clean, fresh dish, set off with sharp citrus contrasts of pink and yellow grapefruit, cubes of compressed melon and dots of intense limoncello and pumpkin seeds.
There was a light, healthy feel to the food that we both picked up on immediately and really liked. Mains (€27-€35) included hake en papillotte with artichoke, tomato and saffron orzo, while a salt-baked sea bass for two people came with lemon-creamed potatoes, broccoli and smoked almonds.
A 'John Stone' rib-eye steak sported onion rings, chunky chips and a red wine jus, while Silverhill duck breast with Asian influences consisted of duck breast, duck parcels, pak choi and a mushroom and soy broth.
Rena's choice of a fish plate (€28) was superb. Splashes of beetroot jus on the plate provided a dramatic backdrop for succulent roast monkfish cheeks, crispy cod brandade balls, shavings of fennel, more limoncello blobs, plus a little bowl of crab and beetroot risotto.
Turbot is a highly prized, expensive fish, regarded by many as the finest flat fish there is. Its meat is firm and chunky, and you don't always see it on menus. When it is, you have to regard it as a bit of a treat, in the same way as sole-on-the-bone, or lobster.
At the Tavern, it was rather nice to get two of these three on one plate, in the form of beautifully seared tranches of turbot (€35) with lobster pieces mingling on an intense green spinach puree, a deconstructed ratatouille of artichoke stem and skinned cherry tomatoes, plus a sprinkling of crispy mussels.
It was the definitive picture of 'Cannes on a plate'. I didn't like the little jug of smoked tomato-water served on the side; it was a bit ineffectual with the robust fish. Sides of chunky chips/French fries; colcannon with bacon; warm beetroot with goat's cheese; and quinoa, were also available at €4.
Desserts included lemon and seasonal berries with creme Chantilly; a Genoise and choux pastry number; plus a melting Valrhona chocolate sphere called "Fairground for two", which sounded rather fun. It came with a toffee and apple doughnut, vanilla cone, marshmallow, honeycomb chocolate and candy floss.
With a glass of Santa Ana La Mascota Malbec (€9.50) for Rena, and La Cote Flamenc Picpoul de Pinet (€8.50) for me, a double espresso (€4.30) and optional service, our bill came to €119.30.
Tavern,
The Dylan Hotel,
Eastmoreland Place,
Dublin 4.
Tel: (01) 660-3000
dylan.ie
lucindaosullivan.com
First published in LIFE magazine in The Sunday Independent