A fearless performance in the theatre of hospitality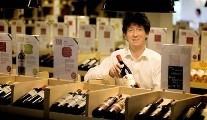 Monday 12 January 2015
John Healy, the effervescent ever-professional maitre d' of TV3's The Restaurant, is back on our screens, and it is a delight to see him in action once again. For me, he holds the show together as he martials the audience into place, is sympathetic to the trials of the kitchen crew and soothes the brow of the irate 'celebrity' chef who perhaps fails to cut the mustard with their culinary efforts. John is always charming, smiling and professional, but when faced with a personal life-threatening medical trauma and an 18-month wait before having a heart transplant in 2012, he was quite extraordinary in his courage and good humour, throughout what must have been a harrowing experience. "I was in suspension. My daily routine became me taking care of myself, going to hospital appointments, keeping fluid off me, trying to keep myself alive. The hospitals were brilliant. I was on hold with the Mater for the transplant and I was affiliated to the heart-failure clinic in Dun Laoghaire. I had to learn how to sit and be patient, to be tolerant, for patience was something I never had."
John started to help wherever he could with the Irish Heart Foundation, the Mater Foundation and the Irish Kidney Foundation. "I was promoting the fact that there were no donations coming through, people weren't aware that donors were needed and 4,500 people were dying every year in this country due to lack of donors. For instance, there were 500 people on the kidney transplant list alone and nothing was moving. So we did as much publicity as we could, in the sense that I told my story and did interviews and photo shoots. So that kept me busy."
John says his first call was like a trial run. "Zita was my coordinator in the hospital and I had to have my phone with me at all times. She would test me once a month to make sure I had my phone with me, because if you missed a call you missed a heart! She rang at about 6pm one day and said 'John, I think we have something. Are you ready?' I said 'yes'. She rang me back and it was a stand-down. That gave me a bit of a jolt. I did the Late Late Show in the middle of all this and I realised then I was not ready, that I was totally terrified and that I hadn't a clue.
"Cameras and TV shows tend to expose you completely. I nearly flipped on the Late Late Show, and I nearly had a nervous breakdown afterwards because the sheer force of my fear came up. I ran out of the studio that night, got straight into the car, went home and bawled my eyes out. I then started getting help from a counsellor for the next year."
Having the transplant has changed John's life completely. "I have a much more balanced life. I eat very healthily and go for walks. All the therapy I went through with the counsellor has paid off. I am much happier in myself. I don't worry about money, I don't worry about jobs, I don't worry about stuff people worry about. It will happen when it is supposed to happen. I started doing yoga and spiritual healing circles, which keep me grounded. I found the spiritual healing circles very powerful and I feel very privileged because I have this extra connection through my donor as well. Every morning you wake up aware that you have been given something very special and I am aware that I am alive.
"I also see in people, that I meet in my daily life, the baggage they are carrying. I see their illness almost, because I have gone through so much of mine. I can recognise the signs and see what people are doing to themselves. There are a lot of people in this country under a lot of financial pressure which causes fear and anxiety, with a lot of breakdowns in families. I do consultancy. I move around where help is needed. If someone is opening a restaurant, I go and help them get it up and going and I give advice. 'You can't buy experience but you can pay for it.' I can walk in somewhere and say you need to do this, this and this, and these are the pitfalls of xyz. I like to do service. I worked in Brown Thomas for nine months last year and it was great to see all my old customers from the Four Seasons again. I have also finished a Shaw Academy Nutrition Course and I am applying to do my Masters in Hospitality Management in DIT this year to enable me teach."
Don't miss this week's episode of The Restaurant on Wednesday at 9pm. I can promise you it's interesting - nay hilarious - I was there.
* * * * *
Another guy in the hospitality field is David Whelehan. A well-known face in the wine industry, David is often seen talking us through the delights of the various vintages on TV3's Ireland AM without boring the hell out of us with too many 'wine speak' technicalities! Having also been the wine buyer for a well-known chain of wine shops, he has now opened his own wine store with a difference at the former Silver Tassie pub on the N11 at Loughlinstown, Co. Dublin.
In a time when Ireland in general was not perhaps knee-deep in either the knowledge or regular consumption of the grape, David Whelehan and his siblings were, he says, "indoctrinated almost by osmosis into the philosophy of wine and its appreciation." David's father was the well-known wine correspondent and author, TP Whelehan, so if he didn't get a good 'pressing' into the business, you would have to ask, who would?
"Dad's palate became very highly regarded on the international circuit and particularly recognised in Bordeaux. As a result, our home had almost weekly visits from wine makers coming to explore the Irish market. Even the late Bob Mondavi, when developing the co-operation between California and Chateau Mouton-Rothschild, flew into Dublin, tasted lots of old vintages of Mouton-Rothschild, then the two of them flew off to Bordeaux and the famous joint co-operation of Opus One was founded, which continues to thrive." The constant excitement and energy of this stream of dynamic wine people lured both David and his brother, Kevin, into the wine business, with Kevin based in Japan for the last 25 years.
"We took over this premises in August 2014 and it turned out to be a mammoth building project, but it has all been carefully restored now. We've designed our unique method of displaying wine and are focusing on, and shipping directly from, small family-owned wineries all over the world. Our whole emphasis is to basically offer extra value, extra interest and hopefully something that is relevant to a burgeoning wine interest in Ireland. To me, it is critical that every wine should have a specific wine description, a reason to buy the wine, and also any press updates, because so often you go into a wine shop and it's a wall of bottles and its impossible to choose. Here every wine will have a description saying 'why buy me', 'what the gurus are saying', and also what the food matches are as well. In our wine bar we offer 16 wines by the glass, beer on draft, charcuterie plates, freshly-baked breads and freshly roasted coffee. So, if you come for wines, you can stay for coffee and just enjoy the experience."
David says the new wine store stems from a mish-mash of ideas. "Travelling around Europe, they tend to have a more holistic approach. Also, to me, it's so important that wine is stored correctly on its side with the wine touching the cork. It's a culmination of 25 years in the wine business. I've worked in Champagne and Chablis and Napa Valley and this is what I've learned and gleaned over the years, and of course from my father." David is planning to open a restaurant upstairs in the building. "We are aspiring to source a very food-focused operator to run a restaurant who wants to offer casual dining but is very interested in the provenance of the food. This is critical to us because it reflects our philosophy here with the wines."
David laughs as he says he abhors 'loyalty points', so they have a wine club instead. "if you are a member of the wine club you get instant discount in the store. If you buy three bottles of wine you get five per cent discount, if you buy six bottles you get 10pc discount and if you buy 12 bottles you get 15pc discount, if the wines aren't already on promotion. Each wine is uniquely sourced for a particular reason. Our entry-level Chilean wine at €9.95 is 'Parker pointed' at 90 points plus. Our Cote Macon-Village, our Rioja Reservas - they all have a unique story to tell. Our Sancerre is astonishing, our house Champagne is brilliant. Even our Chianti is a real 'terroir Chianti' topping the awards from a small production of 7.5 hectares."
For more information, see whelehanswines.ie
First published in IRISH LIFE in the Sunday Independent