The Kerry Food Story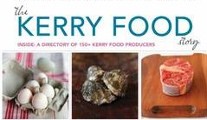 Friday 29 August 2014
TJ O'Connor is one of those great people involved with the training of young people going into the hospitality industry. He is Head of Section, Hotel, Culinary and Tourism Department at the Institute of Technology in Tralee, Co. Kerry. He has just launched The Kerry Food Story, which is a wonderfully comprehensive 68-page book and directory listing over 150 local Kerry food and drink producers.
The publication is funded by the Kerry Local Enterprise Office and is free. The aim of the book is to remind chefs, distributors, hotels, restaurants, retailers and local customers of the wealth of home-grown and home-produced food that Kerry has to offer and to give them the knowledge and a direct way of sourcing it.
"We want to give a strong and vibrant message that Kerry is open for business in relation to food and drink and that we have some of the best producers not just in Ireland, but in the world," says O'Connor.
"Kerry has a magnificent larder of ingredients on its doorstep. We want to show how some of the top chefs in Kerry use their culinary talent and expertise to showcase this produce on the plate."
The book also includes a list of cookery schools, information on farmers' markets and festivals where you can buy produce, and useful Kerry websites to find out everything about local food and drink in the region. And of course, the book includes an extensive listing of producers who are geared up to sell local food and drink products to both businesses and consumers.
"Anyone who wants to buy more local produce and put money back into the local economy should ask for a copy," says TJ.
"The book will be distributed countrywide to all businesses providing food in an effort to encourage them to use local produce to provide people who live in Kerry, and visitors, with a unique experience. It will also be sent to top chefs and food distributors both nationally and internationally."
As well as giving you all the information on Kerry food producers, the featured chefs, who all trained at IT Tralee, share some of their favourite recipes with you.
Dan Browne, a lecturer in Culinary Arts at IT Tralee, shows how to cure Quinlan's mackerel and serves it with vegetables from Manna Organic. His second recipe uses Sean Browne's beef ribs, which he braises slowly in Beoir Chorca Dhuibhne Porter and serves it with an Annascaul black pudding pastie.
Philip Brazil, Head Chef at Sheen Falls Lodge in Kenmare, shares his recipe for roast fillet of cod with Kush mussels from Kenmare Bay and an apricot bread and butter pudding made with Valentia Island milk, Beaufort free-range eggs and Lorge chocolate. Simon Regan of Killarney's Europe Hotel shares his recipe of Ring of Kerry roast loin of lamb using chorizo from On the Wild Side and Dingle goat's cheese beignets. Simon won RAI Best Chef in Kerry 2014.
When Sandra O'Connor opened her Coffee Dock Cafe at Valentia Island, she says she never thought it would become so popular that she would need to train as a chef to expand her menu!
Her recipes in the book make the most of Valentia Island produce, with Valentia king scallops and prawns served with creamy mash enriched with Lee Strand milk and served with tarragon cream sauce.
Her buttermilk panna cotta looks like sunshine on a plate and it's no wonder when it's made with Valentia Island Farmhouse Dairy Buttermilk, Lee Strand Cream and Oilean Chocolate.
Theo Lynch of Allo's Bar & Bistro loves to mix raw and cooked ingredients; he shares his recipe for Fenit Bay crab meat with Ardfert potatoes and aioli in which he uses Cottage Lane eggs.
Caroline Danaher of The Boatyard Restaurant in Dingle also passes on her recipe for her 'From Pier to Platter Tartlet' using Dingle Farmhouse butter, cream and black pepper cream cheese. Patricia Teahan, Head Chef at Carrig Country House, shares her dish of Ballinskelligs duck with Fenit carrot and cumin puree whilst Noel Dennehy of The Moorings in Portmagee cooks fillet of Portmagee Pier hake with Daly's smoked salmon, Cromane mussels and Skellig crab claws.
Don't you just want to get up and head for the Kingdom right now! The book is available in hotels, restaurants and shops throughout Kerry or by emailing tj.oconnor@staff.ittralee.ie. It can also be downloaded on issuu.com
First Published in the Sunday Independent