Our Latest Great Place to Eat - Veda Indian Restaurant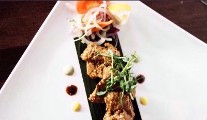 Thursday 19 December 2013
Believe it or not, one of the hazards of being a food critic is that every time you sit down to review a restaurant you have to 'go the distance' with three courses, three tapas plates or whatever, otherwise you disappoint someone. When off duty, as it were, like most people we would have two courses max and maybe, if with girlfriends, two starters, but either way, when on the job, if you don't have a pud you seem to offend half the nation!
This sprang to mind in the new Veda Indian Restaurant in Cabinteely when faced with large portions of really good Indian food. How am I going to manage a pud, I bleated to himself, and it was even more difficult as they had traditional Indian desserts, which it would have been almost negligent to skip.
READ ALL ABOUT VEDA ON MY WEBSITE.
ENJOY
LUCINDA
index.cfm/page/viewRestaurant/id/303