Festive Food Traditions Abroad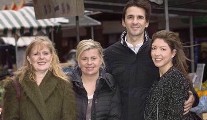 Tuesday 17 December 2013
AS YOU prepare to douse the pudding with brandy and set it alight on Christmas Day, did you know that the plum pudding goes back to Roman times? It began as a pottage of meat and vegetables prepared in a cauldron to which dried fruits, sugar and spices were added. And so it evolved, dropping the meat and vegetables element, becoming in the 17th Century a dessert dish served at Christmas.

Oliver Cromwell banned it because he believed the ritual of flaming the pudding harked back to the pagan celebrations of the winter solstice. George 1, nicknamed the Pudding King, revived the custom in 1714 when he requested that it be served as part of his royal feast. It became part of Christmas celebrations, taking its final cannon ball form of flour, fruits, suet, sugar and spices, topped with holly, in the 1830s.

When my mother was a child on the farm in Kilkenny the customary Christmas dinner was goose. It dropped out of favour for many years as we took on the American tradition of turkey but now goose is enjoying a fashionable revival. And so, while customs change over the centuries, other countries too maintain foods and customs particular to their own traditions.

Polish sisters Karolina Butt and Sabina Trzepacz, along with their mother Marcelina, set up their 'Chill Out Break Cafe Kuchnia Polska', just over a year ago in the heart of Dublin's Moore Street. It has proved so popular not only with the Polish community but with Irish people, who love their wholesome, well priced fare, that they have extended their premises.

"The Polish Christmas starts on the 24th," says Karolina. "We dress our Christmas tree before dinner and sit and eat Christmas dinner when the first star appears in the sky. The tradition is that you use a white tablecloth and underneath the table you put hay, because Jesus was born on hay in a stable. On the table there should be 12 dishes. Certain foods indicate good influences such as poppy seed, which gives you health, wealth and financial prosperity; mushrooms which have some magical connection with God and anything that is above us; and fish is associated with purity and making a woman fertile and have lots of children.

Before everything starts, the oldest member of the family shares a piece of blessed dry bread, 'holly'. Pieces are broken off and given to everyone with an exchange of good wishes," Karolina explains.

"We don't eat any meat on the 24th, it's mainly fish, pasta, wild mushrooms, cabbage, poppyseeds and lots of little dumplings. Carp is the popular fish which we fry in butter and herbs. We also do a sweet dish made with honey, raisins, pasta and hazelnuts, which is delicious. Drinks are made from dried fruits from the summer. On Christmas Day, we can have meat. We bake ham filled with plums or garlic and onion, or chicken roulade filled with parsley, chicken liver, spices and onion. We always put out one extra plate, as there is a tradition that if a person knocks on your door, you let them in and feed them. If you turn them away, that is really bad."

You can order Polish Christmas dishes and cakes for collection on December 24 from the Chill Out Cafe and they also do catering.

tel: (085) 750-0891, or see facebook.com/chilloutbreakcafe

Restaurateurs Eileen Dunne and her Italian husband Stefano Crescenzi tell me they have never been to an Italian Christmas dinner with less than 25 people around the table. It's always a great family gathering with parents, grandparents, distant aunts and uncles and children.

"A typical Italian Christmas dinner in most parts of Italy is based on fish but in the Alps, as you can imagine, it would be game. The most important day of Christmas celebrations is Christmas Eve 'La Vigilla'. Since the 'dolce vita' times of the Sixties, starter dishes such as smoked salmon and prawn cocktail are prominent. Both hold a place of pride on the table and Irish smoked salmon, dressed with lemon, capers and extra virgin olive oil, is considered very prestigious indeed. Starters would be followed with 'assagi di pasta e risotto', a tasting of pasta and risotto dishes with prawns, mussels and clams. Mains would perhaps be roast turbot or grilled Dublin Bay prawns or fritto misto -- deep-fried fish in a tempura-like batter.

"Dessert would be enormous slices of Panettone, a delicious candied fruit bread, and Pandoro traditional Italian sweet yeast bread. Santa manages to arrive unnoticed and distribute presents. In Stefano's home, each present is accompanied by a poem, so this can go on for hours."

However, Eileen recalls that when she arrived in Italy in 1975, few people talked about Santa. The important fiesta for children was La Befana, a witch-like old woman who travels on a broom. She now comes on the night of January 5, bringing children sweets and presents, with naughty children getting sweets that look like pieces of coal. La Befana is celebrated on January 6 with a lunch similar to Christmas Day.

Celebrations continue through Christmas Day and the next day, Santa Stefano, when they prepare dishes such as lasagna with funghi porcini, stewed rabbit, and ricotta and chocolate cake.

New Year's Eve is really big. At midnight, a feast of Cottecchino (pork sausage) and lentils is eaten because lentils ensure wealth for the year. Then people go outside to set off fireworks. In Rome and Naples, the tradition at midnight is also to literally throw away the old and welcome in the new. So you have to be careful as people throw televisions, toys and other household goods out the window!

Eileen and Stefano get the best of both worlds as they celebrate Italian style on Christmas Eve and Irish style on Christmas Day. The new Dunne & Crescenzi Casa on South Frederick Street stocks the most wonderful selection of Panettone and other traditional Italian goodies.

www.dunneandcrescenzi.com

Jerome Fernandes of the lovely La Reserve Brasserie in Ranelagh is the youngest of three sons from Burgundy in France. "On Christmas Eve my parents brought us to see Pere Noel and then in the late afternoon we would all help prepare for dinner. We loved it. My brother Sylvain and I went on to become chefs and restaurant owners and it is because of the great importance placed on local fresh ingredients and mealtime in our home.

"Aperitifs with neighbours and family began at 5pm, which were usually Cremant de Bourgogne, Pastis and Kir Royale. For the children, it was fresh juice cocktail with Grenadine. Canapes would be smoked salmon, oysters with lemon and marinated mussels. Christmas Eve dinner often included a tarte fine a l'ecrevisse sauce Nantua -- a delicate crayfish tart and escargots de Bourgogne. These would be followed with roast capon with dried fruits, a specialty of La Bresse, south Burgundy. A cheese plate with green salad followed the main course. The baguette is served with all courses of the meal, but without butter. Bread is king in the French household. We use bread to mop up the delicious sauces and we leave nothing on our plates uneaten. After dinner at 10pm, we all went to church together. The church was always full for Christmas Eve, adults and children alike -- a lot like it is here in Ireland. Santa Claus would come overnight," said Jerome.

"Christmas dinner was a more elaborate affair with about seven courses and young and old eating the same dishes. Starters are all served at once and would include maybe oysters with chilled spiced gazpacho, pressed veal sweetbreads, pan-fried foie gras with apple and quince, roast small lobster with aniseed and ballotine of quail with grapes. These would be followed by oven-roasted goose with chestnut and figs or roast leg of venison with chocolate and red wine jus. Desserts varied but I remember fondly Grand Marnier-flavoured Christmas log."

Jerome, being a chef, has often worked on Christmas Day but now that he is married to Joanne whose family have The Glue Pot pub in Ballingarry, Co Tipperary, he has had the pleasure of enjoying great Irish Christmases as well.

"Joanne grew up in the Ormond fox hunting area and there is a gathering of the horses and hounds every year during the festive season outside her parents' pub. I love the colours against the beautiful Tipperary countryside.

"I find that Christmas in Ireland has subtle differences but the ingredients are the same and include church, family, gifts and fabulous food. This year Joanne will be spending her first Christmas in France with my family where I grew up so I am looking forward to her take on Christmas in France, where I am sure we will include some Irish traditions."
www.lareserve.ie
FIRST PUBLISHED IN THE SUNDAY INDEPENDENT