Restaurant Review - Etto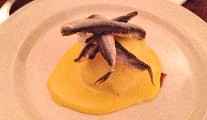 Wednesday 04 December 2013
Etto, a really chic little wine bar, has joined the coterie of eateries and bars that make up Dublin's Merrion Row, smack in the heart of what is known as the golden mile. It is located in long narrow premises that were for over twenty years an Indian restaurant. What they have done here, by way of transformation, is very simple but engaging. The décor is stark white with tables to the front of the room; to the rear, a bar and casual wining or dining area. The jewel in the crown, discovered during renovations, is the very high, beautifully embossed, ceiling, lending added head space and an airy feel, while a funky detail is an essential horizontal industrial girder on the side wall which has been cleverly highlighted as a feature by painting it a rusty red.
Very soon it was apparent it would be very easy to become a regular at Etto, to slip in there every day and have a glass on wine and a couple of their ever changing morsels or larger plates, which were very enticing and moreish. In fact we wanted everything on the menu.
Nibbles €4.50 - €6 included the seldom seen Taramosalata with radishes and rye toast; whilst pork and smoked eel were combined to make croquettes. Charcuterie, including Coppa, Finocchiniona, Prosciutto, salami and rillettes, is priced individually at €7 each or €14 for a selection. Small Plates €9 - €12.50 sported deep fried oysters or steak tartare, while Burrata cheese was with grilled pears and walnuts.
To kick off we chose four small dishes to share and one was simply better than the other. A tranch of chicken liver, lardo and prune terrine (€10), served with chargrilled bread, was as rich and luxurious as any foie gras, while Boquerones (€4) with egg mayonnaise sat in the middle of a white plate as vibrant as the Golden Temple of Amritsar. This dish involved a coating of divine mayonnaise appearing like a mound topped with a 'weather vane' of layered and angled perfect anchovies. Cut through the mound and again its simplicity was totally disarming, a perfect boiled egg with just that correct sticky yoke, firm enough to cut through but still hold a swath of mayo as you ate it. We are well familiar in Ireland with gnocchi but perhaps not with gnudi. Gnudi are not pasta and not quite gnocchi, but dumplings all the same. Comprising ricotta cheese, Parmesan, semolina and nutmeg, having been cooked in water like dumplings, they are then tossed in frothy hot butter with sage leaves until nut brown and gleaming. At Etto a quartet of gnuddi (€9) was but textbook perfection as we mopped up the browned butter and chomped on the crisp fried sage leaves. Veal and pork meatballs (€9) too were top notch sitting on a mattress of soft polenta topped with browned lemon slices.
We moved on to one 'Large Plate' (€14-€19) to share. Large Plates included lamb shoulder with sweet onions, spelt and rosemary broth; grilled onglet, garlic potatoes and smoked marrow Bordelaise or, our choice of smoked haddock stew (€16). Again we were faced with well nigh perfection. A tranch of naturally smoked haddock sat on summery vegetables, napped with tiny brown shrimp, flanked with a crispy egg. A side dish of lightly creamed kale (€4.50) was deep rich and green tossed with pancetta and chestnuts, whilst crispy potatoes (€4) were sprinkled with rosemary salt and Pecorino.
Of course we wanted all the desserts from bitter chocolate pot, hazelnut biscuits and raisins in mead; to chocolate malt icecream, yoghurt sorbet and pear cider granite. Sticky date icecream was our choice with walnut toast and lemon curd (€7) and they gave us a taste of the best ever deep rich red wine prunes with vanilla mascarpone.
With a bottle of Sicilian Cento Cavalli, Grillo, 2012 (€32) and bottled water (€4) our bill with optional service came to €109.50. <ep>
There is no doubt about it, I left feeling more than just a little in love with Etto.
Etto Restaurant,
18 Merrion Row,
Dublin. 2.
Tel: (01) 678-8872
FIRST PUBLISHED IN THE SUNDAY INDEPENDENT