Restaurant Review - Zaragoza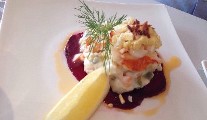 Tuesday 22 October 2013
Everybody it seems wants to be a restaurateur. However, I must confess the latest convert to the hot steamy cut throat world of the professional kitchen certainly surprised me. The ex deputy leader of Fianna Fail, Mary Hanafin, is one of ten people behind the new Zaragoza tapas Restaurant on South William Street. Will we soon be seeing her taking part in Celebrity Masterchef or doing cookery demos? She might as well as 'celebrities' in all walks of life seem to be developing a 'passion' for food and getting in on the game. Actually, being a former teacher, I can imagine our ex Minister instructing folk to "forage your ferns, sauté your onions, mash your mince, eat up and be good"!
Just because Zaragoza is the name of the restaurant and tapas is food on offer, don't expect any 'Manuel' touches. There are no Spanish flamenco posters, bull's heads, or heaving sexy matadors. This place is so cool, understated and ultra modern, it could just as well be serving icy Nordic cuisine or contemporary French classics. Split into areas on different levels, the décor features lots of Art Nouveau style curves, including a multilayered ceiling reflecting a sweeping curved marble bar. We were sitting in the front section, which opens onto the street when the weather is clement. The décor here has brown leather banquettes, accents of Hermes orange and amazing lampshades that reminded me of a South Sea Island Chief's headdress. The food too didn't disappoint, in fact it was cracking.
Prices ranged from €6 - €13.95, with options of larger plates in some instances, plus platters of Patanegra Iberico ham and Manchego cheese around the €15/€18 mark. Portion sizes also were larger and very much more sophisticated than traditional Spanish Tapas – they are Tasting Plates by any other name. Dishes ranged from pan fried fresh scallops, caramelized onions and Iberian ham, to Paella de Marisco with monkfish, prawns, scallops, calamari, mussels, clams and saffron rice. Medjool dates are stuffed with Raclette cheese and walnuts, wrapped in bacon and served crispy, whilst a 'mini pig burger' is with bacon and teriyaki sauce. My fellow diner, Paul O'Connor, who will, incidentally, be compering the Chef's Table of cookery demonstrations at the upcoming Savour Kilkenny food festival, which takes place over the Bank Holiday weekend, put his eye on sautéed foie gras with caramelized apple (€9.50) whilst I fancied poached lobster salad (€11.95). We ordered five dishes to share, and bread (€2.50), which all arrived together promptly without any palaver and one was better than the other! The foie gras was seared to the point of perfect caramelisation on the outside, pink and silky on the inside, and sat on five sections of sautéed apple, drizzled artistically with jus. The lobster salad was a brilliant nod to times past and present. Decent chunks of the precious crustacean were incorporated in a Russian salad, still very popular in Spain, and which, for those of you to young to remember is generally potato salad with the addition of, pea, diced carrot, cornichons and eggs. Sitting on a fine circle of beetroot leaves, it was topped with chopped quail's egg, a feather of fennel and a section of lemon. Just ace. Equally ace was a pumpkin and mascarpone cheese risotto (€9.50), rich and delicious, with Parmesan crackling, and a perfectly judged poached egg which oozed cadmium yellow yolk down through the rice on cue. Spicy chorizo with red peppers (€8.50) in a red wine sauce was plentiful and very tasty, whilst spicy Gambas (€11.95) were decent king prawns with lime and herb butter, plus a deliciously fresh papaya salsa to the side.
With a bottle of Verdeo Verdejo (€26.95) our bill with optional service came to €88.80. By the way, as well as a great range of cocktails, they also do 175ml glasses and 500ml carafes of wine, and Natureo Moscatel (€14.95) a de-alcoholised wine with only 34 calories per glass!
Full marks – it's a class act.
Zaragoza
18/19 South William Street,
Dublin. 2.
Tel: (01) 679-4020