Restaurant Review - Clodagh's Kitchen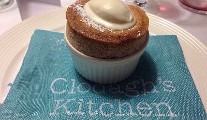 Tuesday 30 July 2013
A decade or so ago a young lady from Cork sent me a recipe for chicken liver pate which she was selling in Midleton Farmer's Market. Since then she has moved rapidly up the foodie ladder so it was good to see that she has been true to her origins proudly showcasing her Farmer's Market Pate on her new menu. I speak of course of Clodagh McKenna, whose determination hard work and inspiration, has seen her not only now run the restaurants in Arnott's Department Store but she has descended like a fresh beam of light into the South Dublin suburb of Blackrock Village with her new 120 seater Clodagh's Kitchen. Her arrival to the area is being seen as a new beginning for Blackrock, which, particularly since the demise of Dali's Restaurant, is very short on good eateries. The shops and boutiques too have felt the pinch in recent years since the advent of Dundrum Town Centre.
Located over two units on two levels in Blackrock Shopping Centre, Clodagh's bright new Kitchen fronts out onto the carpark, with dual access from both inside and outside the center. The décor is superb, light brick walls of the variety which Sir said is known as Dolphin's Barn brick. I'm not sure about that but they are offset to stunning effect with muted faux French style grey and white paintwork, furniture and napery, accented with fresh turquoise menus, napkins and tweaks. Sir was also very struck by how cleverly they had broken up the two main rooms, from a little curtained romantic nook to booths, long banquettes and individual tables. Open from 8 a.m. for breakfast, through lunch and dinner, the exterior front area also has a really chic little wine bar where you can have antipasti plates, the aforementioned pate, Scotch Egg or Potted crab.
The Head Chef, Karl Breen, was formerly at The Greenhouse, and brings to Clodagh's Kitchen a fresh light contemporary twist on pairings and presentation, but no over the top stuff, so well judged for the location. Breen also will now be able to develop his own ideas and we very much liked what we saw so far. The 'Summer Dinner Menu' had Starters €8-€9.50 including a Carpaccio of fresh tuna with orange marinated fennel, whilst Classic Italian Fritto Misto used summer vegetables served with a lemon aioli. Sir had a Carpaccio of Himalayan salt aged beef (€9), a perfectly elegant carpet of poppy red beef wafers almost leaping from a white plate but overlaid by the cool icy colours of slivers of clear red tipped radish, croutons, curls of aged Coolea cheese, mayo, and micro herbs. I opted for roasted razor clams (€9.50) – the hottest shellfish around right now - and Gubbeen chorizo – but the razor clams had stayed in hiding and the dish was now with regular clams. Who am I to pick a hole on the first night of opening – they did damn well in doing as much as they did and the dish was tasty punchy almost sweet sour 'tamarindish'.
Mains €17.50 - €27 included wild nettle gnocchi with spiked Bellingham Blue sauce. Grilled Wicklow lamb was with fennel, peach, and a summer herb salad whilst roasted whole free-range chicken, ballontine and chicken skins, had Moroccan style preserved lemons, quinoa and watercress. Sir had a brace of incredible melt in the mouth slow cooked sweet spiced, glazed and shining, pork cheeks (€24), cooked in the Aga oven into delicious submission with thyme, and plated with various carrot tweaks and Vermouth gooseberries. I had "Fish & Butter" (€23.50) cooked on the bone and which, on the night, was a fine tranch of meaty monkfish, seared on the top, oozing moisture, butter and foam, and sitting on lovely salty samphire. A real cracker and good value too.
We shared a perfect rhubarb soufflé (€6.50) and with two glasses of Gavi (€7.50 ea) and a half carafe of Nativo Siciliano 2011 Nero d'Avola €23 our bill with optional service came to €120.
Restrained and elegant top notch food at decent prices. The Burghers of Blackrock will be out in force to welcome Clodagh.
Clodagh's Kitchen,
Blackrock Shopping Centre,
Blackrock,
Co. Dublin.
Tel: (01) 212-2981
FIRST PUBLISHED IN THE SUNDAY INDEPENDENT ON JULY 28, 2013.