Hot Dining in Holiday Hot Spots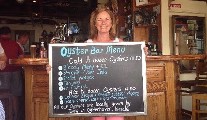 Wednesday 24 July 2013
We all like to try the local restaurants when we are on holiday whether home or abroad. Maybe you go to the same part of Connemara or West Cork each year, visit old favourites and know them all by heart, but then again maybe you don't, and places do change from season to season.
Kinsale is one of our great holiday and foodie towns and every year there are always additions and subtractions on the restaurant scene. At the long standing Man Friday you will get great feel good classic food such as crab au gratin or hot oysters to start, followed by grilled black sole on the bone or Duck Armagnac – those timeless luscious dishes. They also do an excellent 3-course Early Bird at €26.50 www.manfridaykinsale.ie Two new additions to Kinsale this year are Bruno's Italian Eatery and Finn's Table. Bruno's is in an old historic house on Main Street doing pizzas from their wood-fired oven and delicious pastas combined with local shellfish, cheeses, and even Jack McCarthy's black pudding gets a look in. Mains are €10 - €19. www.facebook.com/brunosrestaurantkinsale Finns Table is run by John and Julie Finn who were previously at Dillon's Restaurant in Timoleague. I have yet to try it but mains here run from €20 to €35 and their Early Bird is €32.50 so it is relatively high end. All their viands come from John's parents – Finn's Butchers of Mitchelstown whilst all of their fish is sourced from West Cork trawlers. Think panfried West Cork scallops with Rosscarbery black pudding, glazed asparagus and roast pepper salsa, or Surf 'n Turf of fillet steak and locally caught half lobster with fondant potato, ginger, coriander and lime butter. www.finnstable.com The Shanghai Express is a favourite of mine with the best Oriental and South East Asian food in the country in tapas sizes from €7 - €9 and main course portions about €14/€15. www.facebook.com/Shanghai-Express Another favourite is The Bulman Bar and Toddies Restaurant – a downstairs cosy quayside bar where you can get grilled half lobster and salad for €15.50 and upstairs experience some of Pearse O'Sullivan's terrific evening food in stylish Francophile arty surroundings. www.thebulman.ie
In the colourful town of Clonakilty, An Sugan Seafood Bar & Restaurant serves great local seafood and produce such as fresh Union Hall salmon and potato cakes and Dublin Bay Prawn Scampi. Try their Tasting Plate of Gubbeen Cheese, homemade chicken liver pate, Union Hall smoked and fresh salmon parfait, and crabmeat in dill. www.ansugan.com Nearby Richy Virahsawmy's eponymous Bar and Restaurant has wonderful local produce and some Mauritian influences such as his cracking Mauritian Beef Curry. Food all day – plenty for the kids – and a good €25 Early Bird. www.richysbarandbistro.com
On the Cork side of Glengarriff, Jim's Coffee House is an undiscovered treasure. Named by his daughter Aine after the late Uillean Piper Jim Dowling, the exterior house façade conceals a fine big cool café with to the rear great parking and a wonderful outdoor dining area with views down over the water. Quiches, salads, cakes, and two hot dishes a day are the thing here. At nighttime during the summer they do cheese and charcuterie boards. www.facebook.com/TheBayviewBoutiqueGuesthouseandJimsCoffeeHouse
The Charcoal Steakhouse in Kenmare is proving popular with casual grub including 'nibbles and light bites', 'burgers', jackets', 'oven roasted Parmesan chicken', 'rack of ribs' et al with lots of prices under €20. An 8 oz fillet is around €26 and an early Early Bird up to 6.45 pm is €19.95/€23.95 www.facebook.com/charcoalsteakhouse Great value delicious cakes, pastries and light lunches are available at the Rose Garden Café on the Sneem Road. In house chef patron Jerome Barbe makes everything fresh each day whilst Vladimira is front of house. Easy parking too. www.rosegardenkenmare.com
New in Killarney is Mareena's Simply Food on East Avenue Road. Here Mary Reen, ex Hotel Europe, is serving daytime and evening food at good prices. Lunchtime open gourmet sandwiches include freshly poached Kerry Coast salmon on homemade brown bread with light lemon mayo and chives, or cooked loin of bacon and Kilcummin cheese from Dingle on London Bloomer with coleslaw and vine tomato. Try Granny Liesel's pork Schnitzel with mushrooms, bacon and spring onion, creamy veloute, or pot au feu of salmon, prawns and mussels with a Basmati rice timbale at €10 and €14 respectively. Nighttime menu has mains €12 - €23 but mostly well under €20. www.facebook.com/MareenasSimplyFood
In Dingle, brothers Niall and Brian O Conchuir from Ballyferriter are cooking up a storm in their An Canteen restaurant. Again good prices from €14.90 to €19.50 for mains, the latter for whole prawn tails in a light spice Asian sauce served with homemade chips and salad. Great spot. www.ancanteen.com Further up town Martin Bealin and Nuala Cassidy continue to reel in the punters for their great top notch food with mains running from €26 to €39 – the latter for fabulous Dingle Bay Lobster. Lots of seafood here – a real treat. Great Early Bird here too 2/3 courses €25/€28 – 5.30pm – 6.45pm www.globalvillagedingle.com Check out The Half Door Seafood Restaurant also – great lobster and delicious sauté scallops in saffron sauce. Early Bird €29.50. www.halfdoor.ie
Mitchell's Restaurant in Clifden is a cracking spot laden with lots of goodies such as crab cakes with warm potato and chorizo salad, Mannin Bay crab claws and a great seafood chowder. They also have an excellent 'Special Menu' - 3-courses €24.95 available all nights except Saturday. Lunch is served all afternoon – great casual food – Shepherds pie, Boxty Steak Burger, Wraps and Panini's. www.mitchellsrestaurantclifden.com
Up in Westport they have a great lunchtime deal at the Wyatt Hotel on the Octagon. Called '8 for 8 @ JW's Brasserie' they offer 8 lunchtime specials for €8 per dish from Monday to Saturday from 12 – 5 pm. Dishes include traditional turkey and ham, smoked salmon penne pasta, stirfry Cajun chicken noodles and so on. They also do a Dinner for 2 deal at €60 including a bottle of house wine running in summer from 3pm until 8.30 pm from Sunday through Friday. www.wyatthotel.com
Kelly's Hotel in Rosslare take the view that it would be rude not to indulge in some local seafood when holidaying in the South East so, on Wednesday and Saturday nights, they have a lobster dinner in their Beaches Restaurant followed by music and dancing in the Ivy Room for only €43.50 per person. On Sunday evenings they have a deal at €39 that includes dinner at Beaches followed by 'Sunday night at the Musicals in the Ivy Room with hit songs from over 25 different stage musicals. For a more laid back experience they have a summer BBQ each Tuesday night during July and August at their chic La Marine restaurant such as Wexford Hereford burgers, Magret of Duck, Rib-Eye Steaks and salads with specials available from €14 per person. www.kellys.ie
Happy Holidays.
FIRST PUBLISHED IN THE SUNDAY INDEPENDENT ON JULY 21, 2013.